My 4-Step Kindle Book Revenue Engine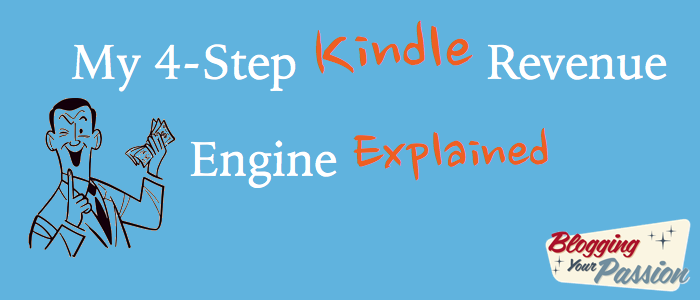 "I'm giving away my new book for free for the first 5 days." These were the exact words I told me wife earlier this year. Her look was one of doubt and confusion. "Why would you do that? You've been working so hard on this book to turn around and just give it away?"
At that point, I had to admit she was right. I had spent several months writing away about everything I knew about building a sustainable, lifestyle business through blogging. The book was well over 50,000+ words of pure content. She even had me doubting a bit on my strategy.
After assuring her I had a plan that was more long-term focused, she agreed to the strategy. If it worked…awesome. If it didn't, well…I knew for next time. 🙂
I'm here to tell you that the strategy worked great. Now, it's my turn to share it with you so you can use it for your next self-published book. To use this strategy you must share in the belief that a new email subscriber is much more valuable than a quick, small sale of a book. If you think the same, then this is the strategy for you.
Step 1. Place a "free gifts for you" page in the front and back of your book
Dedicate an entire page in the front and back of your book to a special content upgrade offer. The email opt in offer must closely associate with the topic of your book to be effective.
For my 15 Success Traits of Pro Bloggers book, I gave away some extra training videos along with a full-color PDF graphic of the 15 success traits. The PDF would help the reader to remember what he learned in the book and the videos allowed him to go deeper in the training.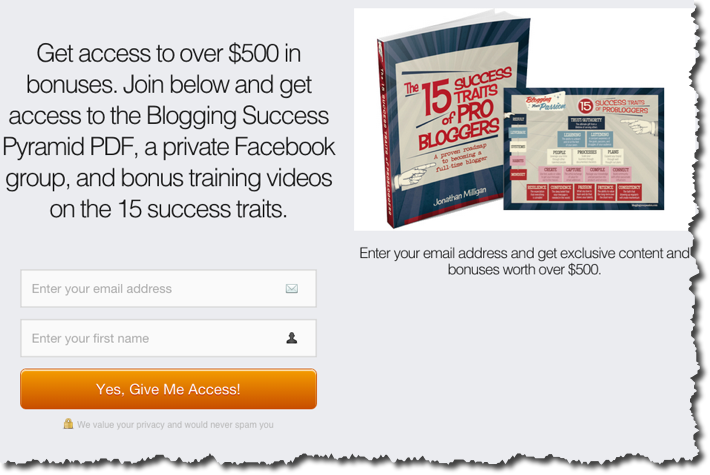 Step 2. Run a KDP Free Promotion for Your Book
KDP stands for Kindle Direct Publishing. If you elect to enroll your Kindle book in the KDP program, they in turn offer you five free promotion days to use every 90 days. I decided to use all five free days at the very beginning of my launch. My goal was to create a buzz right out of the gate.
Readers of Blogging Your Passion knew the book was on the way so they created a buzz for me about the book being available for free. Offering my new book for free brought a ton of exposure. As you can see, it was listed #1 in Entrepreneurship after only two days of launching the book.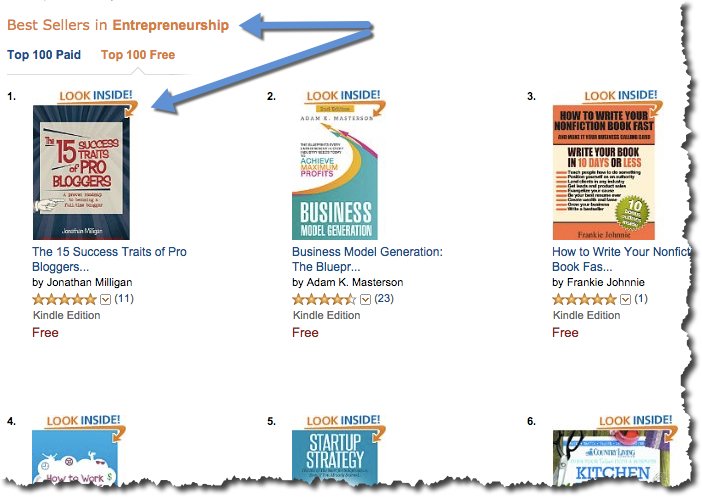 Step 3. Reach out to other influencers to promote your book
This is where you can really ramp up the downloads (and eventual email subscribers) for your book launch. Many of us feel hesitant about reaching out to other influencers to promote our products and services. We don't want to come across as me-centered. The way around that is to make others look good. Influencers love to share helpful, free resources with their audience. They want to be known as resourceful person (even if it isn't their information).
I reached out to other influencers I knew to see if they would be willing to share on social media about my free book launch. Influencers like Michael Hyatt, John Lee Dumas, Jeff Goins, and others gladly shared my new book with their audience. For that, I'm forever grateful.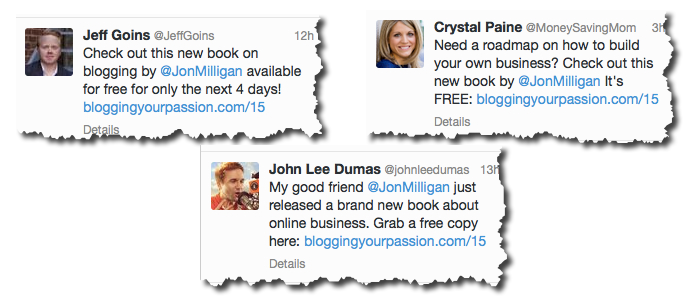 Step 4. Deliver more content and Introduce your list to other income streams
If you execute this strategy well, you will add hundreds (if not thousands) of new email subscribers to your list. From there you want to do two primary things and in this order:
Deliver more amazing content – Your emails should not be promotion only. In fact, they should be more content-driven than promotion-driven. Make people want to open your emails!
Introduce your list to other income streams – You will have a segment of your list that will want to go deeper with you. They gained helpful insights form your book but they simply want more. If you create an integrated-income approach like we teach at the Amplify Workshop, then creating a pathway of belonging for your audience is not hard. Let them know about your print book, audiobook, online course, membership site, individual or group coaching, and live events.
You finally made it. You now know why I gave away my book for free. I wanted to create a pathway of belonging for my readers. If I gave value first, then they would gladly follow me to me other income streams,
Now you have the strategy. Go use it…
🚀
Free Video:
How to Build an Online Business as a Writer or Coach (The Low-Tech Way) That Creates Time and Financial Freedom
(Without Feeling Overwhelmed by Technology, Self-Doubt, or Too Many Choices)
Click Here to Watch Now