Meet Edgar Review – How to Be Everywhere Without Losing Your Mind
I often tell people that social media posting feels like pouring water into a leaky bucket. There are some cool social media scheduling tools out there, but most of them have one flawed problem – your need to constant fill up the bucket. Maybe you spend once a week scheduling quotes, image quotes, e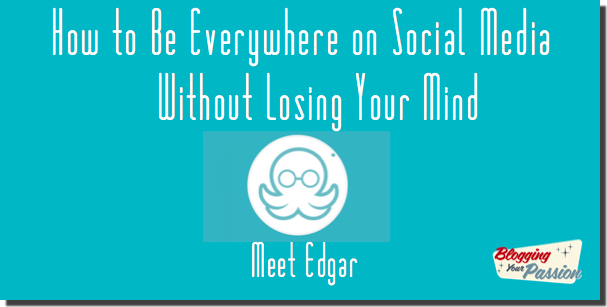 I often tell people that social media posting feels like pouring water into a leaky bucket. There are some cool social media scheduling tools out there, but most of them have one flawed problem – your need to constant fill up the bucket.
Maybe you spend once a week scheduling quotes, image quotes, engaging questions, and blog posts links. It feels great to know this social media content is scheduled and on autopilot – well, sort of.
What often happens is we get busy and forget to go back and pour more water into our leaky bucket. The result is we have an inconsistent social media presence. What we need is a way to recycle our best content infinitely.
Introducing Meet Edgar.
I've been using this new social media tool for about a month and my results have been amazing. Not only have I seen an increase in my engagement, but I've seen my followers grow as well.
[feature_box style="26″ only_advanced="There%20are%20no%20title%20options%20for%20the%20choosen%20style" alignment="center"]BONUS CONTENT: Be on the lookout at the end of this blog post! I want to give you 55 Quotes That Will Inspire Your Audience in a handy spreadsheet. You can feel free to use these on your social media outlets! If you can't wait till the end of the post, you can Click here to grab it now.
[/feature_box]
How to Be Everywhere Without Losing Your Mind
While I recommend that beginners just pick one social media outlet, here is a step-by-step strategy for how you can be everywhere without losing your mind. It will take a bit of work to get set up, but once done your social media is on autopilot.
One word of caution though- being on autopilot does not mean you should not be actively involved. At the end of the day, your personal interaction is still needed. All of my social media comments and replies come from me.
1. Decide on Your Social Media Outlets
At the time of this writing, Meet Edgar works with Twitter, Facebook (personal profile), Facebook (fan pages), Facebook (groups), Linkedin (personal profile), and Linkedin (company page). You can decide which accounts you want to connect to Edgar. You only need to do this once.
2. Select Your Categories
Next you will need to decide what your category buckets will be. By default, Edgar offers you a few to get started. I would recommend that you do more than just links to your own posts. Social media is meant to be conversational and so you should share interesting quotes, thoughts, and questions that may not directly tie back into your blog. Here is a rundown of some of my categories: quotes, quote cards, questions, promotional, blog posts, tips, and inspirational/funny.

3. Pick Your Social Media Schedule
After you have your categories set up, you'll need to set-up your weekly schedule. You'll need to do this for each social media account you connect to Edgar. This tells Edgar which content items you want to go out and when. You only need to select the categories and then Edgar will randomly pick an item from your category to go out at the scheduled time. Here's a sample schedule for Twitter:
9:15   Quote
10:30 Question
12:00  Promotional
1:30  Blog Post
2:45  Quote
3:45  Blog Post
4. Grow Your Library
Now you've reached the fun part! The first three steps above only need to be set up once. The last step is for you to fill up your content buckets as you come across helpful quotes, thoughts, questions, images, and posts. Since Edgar automatically recycles your content, the larger your category buckets are the less they will repeat.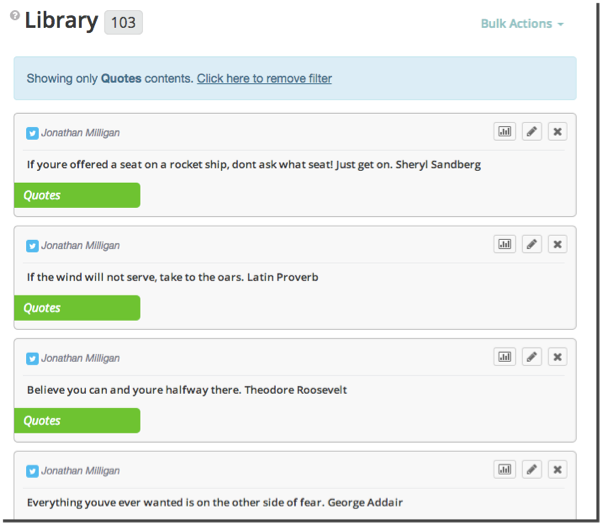 Meet Edgar also has an awesome Chrome extension which allows you to add new pieces of content on the fly as you discover them. It's awesome to see how large my content library has grown. Also, if you already have a collection of quotes in a spreadsheet, Edgar has a handy import function which can allow you to fill up your library quickly.[feature_box style="26″ only_advanced="There%20are%20no%20title%20options%20for%20the%20choosen%20style" alignment="center"]
CONTENT BONUS: If you'd like to try Meet Edgar out for yourself, I have put together a spreadsheet of my favorite quotes to get you started. It's called 55 Quotes That Will Inspire Your Audience. It's already set up for you to directly import it into Edgar. I'm not an affiliate of this software, I just love it! You can grab this spreadsheet by CLICKING HERE.
[/feature_box]