Linkedin Groups: A Simple Marketing Strategy for Bloggers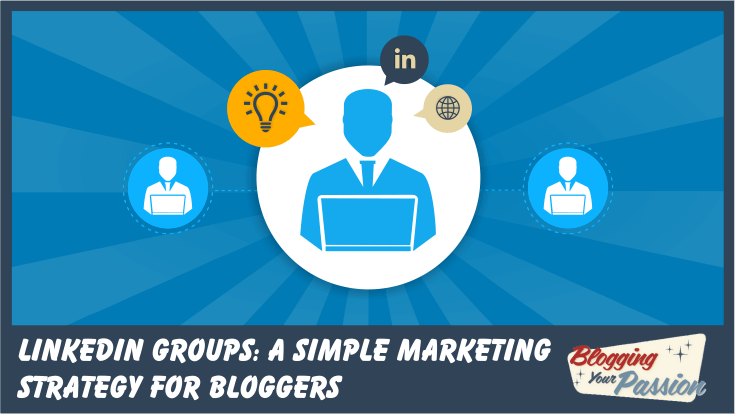 Are you leaving a hidden traffic source on the table? When it comes to Linkedin, many bloggers dismiss it too quickly. After all, isn't it just a networking site for working professionals?
While this is somewhat true, you might be surprised to discover that there are thriving Linkedin groups on topics such as camping, hunting, fishing, the arts, blogging, book writing, coaching, auto repair, entertainment, golf, and more.
Whatever your passion might be, there's probably a group of people on Linkedin talking about it.
Awhile back, I decide to form a Linkedin Group for Blogging Your Passion. Honestly, I didn't expect much because I assumed Linkedin wasn't where my ideal audience was hanging out.
I have done zero promotion about this group to my existing audience and email list. As of today, this Linkedin Group has 2,802 members and growing. Again, I've done zero promotions so far.
A Linkedin Groups Strategy for Bloggers
I want to share with you four ways you can grow your blog and business using Linkedin Groups. Some of this might come as a surprise to you (it was to me).
Tip 1. The weekly announcement email
As a Linkedin Group owner, you have the ability to email all your group members once a week. Yes, you read that correctly. You can send them an email to their personal email inbox they used to register their account with Linkedin.
As your group grows, it's similar to building your email list. Now, the ultimate goal is to convert them to an actual email subscriber as Linkedin can change this feature at any time.
For now, you can email your group members once a week with an announcement email you create. I've used the announcement email to promote launches, webinars, blog posts, podcast episodes, affiliate programs, etc.
The ability to send a weekly email is alone a convincing reason to create a Linkedin group.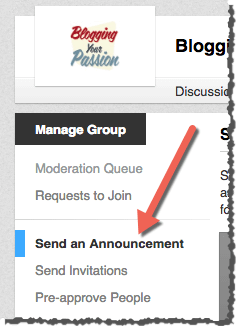 Tip 2. The featured conversation
As the owner of the group, you get to decide which discussion posts get featured. A featured conversation keeps your post pinned at the top. It's a surefire way for your group members not to miss your post.
I've mostly used this strategy to get group members to register for upcoming webinars.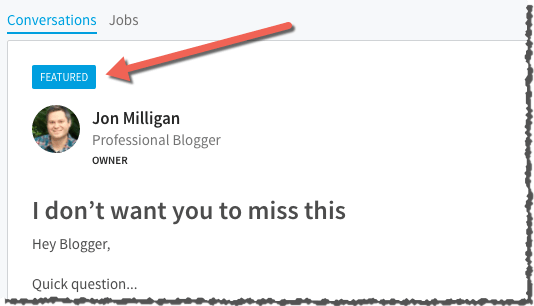 Tip 3. An auto-send welcome email to new members
I love this feature. As you approve new members to your Linkedin Group, Linkedin will automatically send a welcome email from you. A smart way to capitalize on this feature is to place an email incentive in your welcome email.
At the end of the day, we want to turn this Linkedin Group member, into an email subscriber. See the pic below for an example.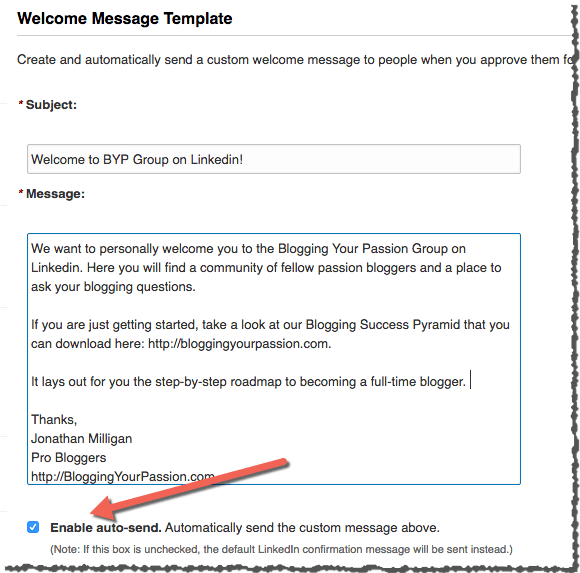 Tip 4. Share new content to drive traffic
Do you publish new blog posts, podcasts, or videos on a regular basis? Then add this to your promotion strategy. Go to your Linkedin group and share a teaser about your new piece of content. This posting strategy can drive extra traffic to your blog.
I hope some of what you learned today gets you to take a second look at Linkedin.
🚀
Free Video:
How to Build an Online Business as a Writer or Coach (The Low-Tech Way) That Creates Time and Financial Freedom
(Without Feeling Overwhelmed by Technology, Self-Doubt, or Too Many Choices)
Click Here to Watch Now