What is a Lead Magnet? (Plus 12 Easy Ways to Build Your Email List Fast)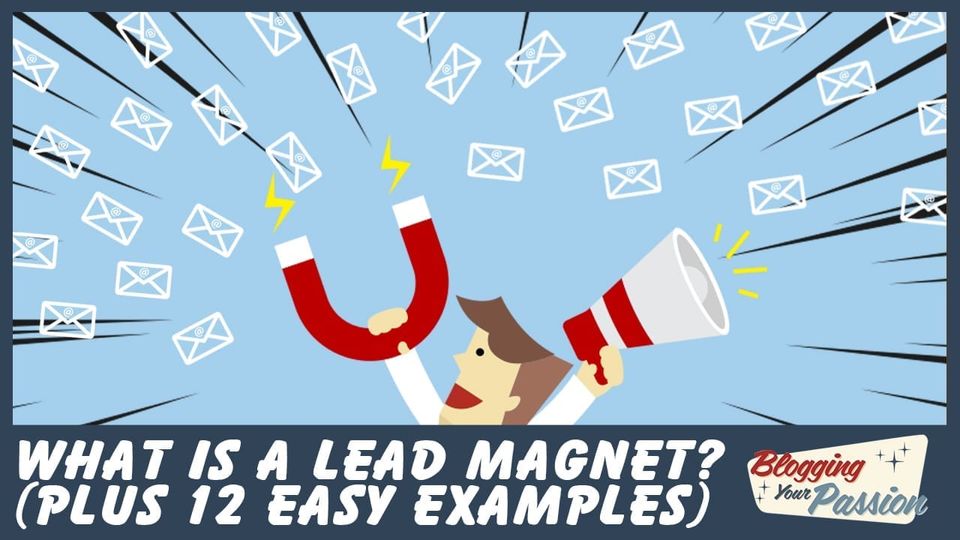 On a recent webinar about blogging, I asked the live audience: "What is a lead magnet?" I was surprised by how much confusion there was around this powerful tool.
A lead magnet is a piece of valuable content you give away for free in exchange for an email address.
Why would you want a reader's email address? If you want to build an online business, there's one essential skill you must develop: email list building.
Your ability to capture new leads (subscribers) will determine the success or failure of your online business. It's simply that important. List building is a fundamental skill every successful blogger must master.
Yet, many new bloggers (and more experienced ones, too) struggle with getting their lead magnets in place. My goal for you is not only to better understand what a lead magnet is but why it's vital to your success as a blogger.
The "Join My Newsletter" Trap
There's a deceptive trap that is easy to fall into when you first start blogging. I call it the "join my newsletter" trap. Give me your email address, and I'll send you a newsletter every week.
This strategy may have worked in 2007, but it no longer works today. In some ways, people are more protective of their email address than ever. Just setting up a capture form on your blog is not going to compel someone to give you their email address.
The whole concept of "join my newsletter" is more self-focused than others-focused. Your audience is instead asking: "What's in it for me?"
If you want to triple your email list size over the next thirty days, then adopt one key strategy: Create content upgrades.
Why Content Upgrades Work
A content upgrade is a piece of bonus content related to a topic your audience is already highly interested in. You place it right in the middle of a blog post (or mention it in the middle of a podcast or YouTube video) Below is a screenshot of one I use in the middle of my blog posts on my blog:
See how powerful a content upgrade can be for growing your list?
Examples of content upgrades might be:
A worksheet or spreadsheet
A checklist to follow
A short PDF guide
Video bonus content
Audio bonus content
For someone to get access to this content upgrade, they need to opt in with their email address. You can implement this strategy for blog posts, podcasts, and even YouTube videos.
Let me share a few recent examples:
Example 1: The 90-Day Review Checklist [Blog Post]
Below you will see a screenshot of a blog post I wrote about how to do a quarterly review. In the post, I mention an opportunity to download my PDF checklist (see arrow).

How effective is this strategy in collecting new email subscribers? Here's a screenshot of my ConvertKit account just a few days after the post went live.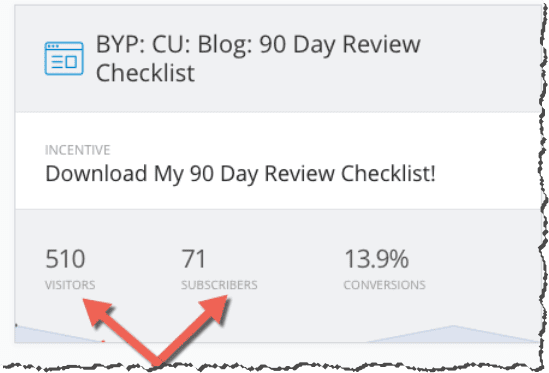 As you can see, nearly 14% of visitors to that blog post became email subscribers from this strategy. If you think that post was just an outlier, I have example after example of how this strategy just keeps working.
Example 2: Blog Business Plan Template [Blog Post]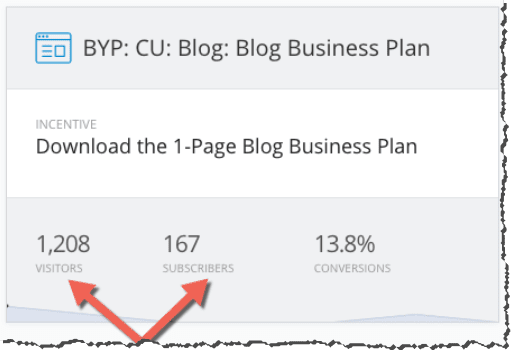 Here we see an almost 14% conversion and 167 new email subscribers in a matter of a few days.
Are you beginning to see the power of content upgrades? Think of content upgrades as super-targeted lead magnets.
The 12 Types of Lead Magnets
The good news is there are no limits as to what qualifies as a lead magnet. There are only two critical factors in creating an effective one:
It must add value in some way
It should be easy to consume (quick read)
When it comes to creating our lead magnets for Blogging Your Passion, we tend to select from the following twelve types of lead magnets. I'll give a brief explanation of each.
Checklist/Resource List: A one-page summary list of what was discussed in the blog post
Audio Transcript: A written transcript of a podcast interview
PDF Blog Post: A handy, printable PDF version of the entire blog post
Tip Sheet/Resource List: A one- or two-page list of tips on a topic
Useful Worksheet: A simple question-and-answer document to help someone apply what they learned
Report/Case Study: A three- to five-page case study or a report on recent trends
Excel File/Spreadsheet: A helpful spreadsheet related to the topic discussed
Example Template/Word Doc: A template that can be used to apply what was learned
Manual/Starter Guide: A getting started guide on an important topic
Audio File: A bonus audio recording in addition to the original content
Instructional Video: A bonus instructional video in addition to the original content
Learning Challenge/Free Course: A free three- to seven-day course to help your readers apply what they learned
Want even more content upgrade ideas? Check out this blog post from CoSchedule on 35 Different Content Upgrade Ideas
The 3 C's of Lead Magnet Creation
Now that you understand the limitless possibilities of creating lead magnets, I want to help you get started. If you are trying to create your first lead magnet, then I recommend starting with one of the three C's.
Content: Find an old blog post and turn it into a PDF
Checklist: Create a one-page summary checklist or resource list of links
Challenge: Create a three- to seven-day email challenge/course
I placed them in order from easiest to most difficult. An easy place to start is to go over your old blog posts and find the one that either has the most engagement or the one you are the proudest of. Copy and paste your entire blog post into a Google Doc. Download your document as a PDF so you can easily deliver it to anyone who signs up.
To see how easy this is set up using ConvertKit, see our blog post: ConvertKit Review: 7 Big Reasons I Made the Switch
Another easy lead magnet to create is a checklist. Using the same process mentioned above, brainstorm a list of helpful links or checklist items based on a certain topic. People love to download PDF checklists. For an example, check out our post: 17 Facebook Live Video Tips for Better Results.
While it is a bit more challenging to pull off, free multi-day challenges are extremely popular right now. If you have software like ConvertKit, you can easily create a three- to seven-day automatic email series. Each day, you send a short email with a specific action step for the subscriber to take. To see an example, check out our free list-building challenge below:
Now that you know what a lead magnet is, which kind will you create first?
🚀
Free Video:
How to Build an Online Business as a Writer or Coach (The Low-Tech Way) That Creates Time and Financial Freedom
(Without Feeling Overwhelmed by Technology, Self-Doubt, or Too Many Choices)
Click Here to Watch Now