The 7 Most Important Lessons I've Learned After 18 Months of Blogging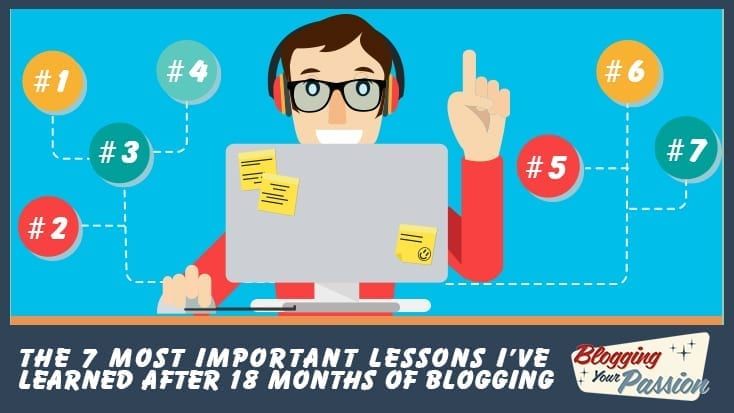 This is a guest post by Bo Miller. Bo is an introvert, author, blogger, podcaster, and teacher. He's also a certified Myers-Briggs practitioner. You can find and follow him at ISpeakPeople.com
What are seven things that every aspiring professional blogger needs to know and should be doing (especially if you're a beginning blogger)?
I started blogging in January of 2016, not too terribly long ago. Since then, I've learned a ton and much of it from Jonathan Milligan here at BloggingYourPassion.com.
His 15 Success Traits of Pro Bloggers are on my mind regularly. They are my blogging map and the framework I use to sort through and understand the myriad of blogging strategies floating around the web.
Following the 15 Success Traits, I've been able to…
Launch several podcasts
Release an online course
Launch a YouTube channel
Write a Kindle book and work on another one
I don't have it all figured out, but I'm having a blast learning!
If I had to distill the most important lessons I've learned about blogging down to a 7-point list, it would read like this.
7. Publish.
First and foremost, commit to writing on a regular basis. Choose a day – or a couple of days – that you'll publish each week, and stick to it. Following through on your commitment to publishing will build your confidence and momentum.
There are days when I fear what people will say about my work. I hesitate but then go ahead and publish anyway. Usually, those are the posts my readers like best. Don't be afraid to be vulnerable and put yourself out there a bit.
6. Promote.
I wish I'd learned this lesson at the very beginning. When I first started posting on my blog, I expected crowds of people to show up at my digital doorstep wanting to read my work. I waited, but no one came.
Eventually, I learned that I had to go out and find readers. I started posting in Facebook groups, guest posting, and running Facebook ads. I published Facebook Live and YouTube videos, and I promoted my content with CoSchedule.
When readers started to come, I discovered that promotion is every bit as important as publication.
5. Populate your list.
If you don't have an email list, you're not taking your work seriously enough. The most important statistic in my blog's success is the number of people who subscribe to my email list – not page views, site visitors, bounce rates, or shares.
All of those stats are important, but email trumps them all. If you want to turn your passion into a full-time gig, you have to populate your email list.
4. Push.
Seth Godin says fear should guide us like a compass, not lock us in a cage. When you're thinking about trying something new – writing your first Kindle book, launching a podcast, starting a membership site – and you feel afraid, your fear is confirmation you should do it.
It's a needle pointing you in the direction should go to escape your comfort zone and reach new heights.
"Fear should guide us like a compass, not lock us in a cage." – Seth Godin"
One of my favorite things about blogging is that it's a never-ending opportunity to learn and grow. I get to stretch myself and strive for my potential every day.
As John C. Maxwell explains, you and I are like rubber bands, and "Rubber bands are useful only when they are stretched!"
3. Plan.
You won't begin to tap your blogging potential until you start thinking strategically. One of the best ways to do it is to plan:
Short-term: for the week and the day
Mid-term: for the quarter and the year
Long-term: five to ten years down the road
I'm still working my full-time job, but I've learned to make the time I have to work for me by planning and following Steven Covey's advice to "begin with the end in mind."
2. Persevere.
Over and over again, I've heard successful bloggers say that success comes to those who stay the course and hang in for the long haul. When I first heard those words, I didn't appreciate them. Nevertheless, they encourage me today because they remind me…
I don't have to have it all figured out right now.
I can pivot and modify my blog as I go.
I can fail forward, experiment, and make mistakes.
So can you.
In the end, the key is to keep moving and putting your fingers on the keyboard. Earl Nightingale said it best: Don't "give up on [your] dream just because of the time it will take to accomplish it. The time will pass anyway."
1. Prize people.
When everything is said and done, your success is a reflection of how well you're helping your audience. When you set your eyes on serving your tribe, you start to…
Listen to and hear their needs
Open up and share your failures and successes
Give generously
Form community and meet needs.
The paradox is this: When you focus on your success, you lack it, but when you concentrate on your readers and take your eyes off of yourself, you start to succeed. Zig Ziglar put it this way: "You will get all you want in life if you help enough other people get what they want."
What's the most valuable lesson you've ever learned through blogging?
🚀
Free Video:
How to Build an Online Business as a Writer or Coach (The Low-Tech Way) That Creates Time and Financial Freedom
(Without Feeling Overwhelmed by Technology, Self-Doubt, or Too Many Choices)
Click Here to Watch Now