How to Overcome Analysis Paralysis | 11 Unique Ways to Get Moving Again
For too many years analysis paralysis was the ruler of my life. Each and every day it sat on my shoulder offering me all the reasons why I should leave my proverbial boat tied to the shore. It squashed every new idea, project, goal or thought. It encouraged me "t0 play it safe." Finally, one … How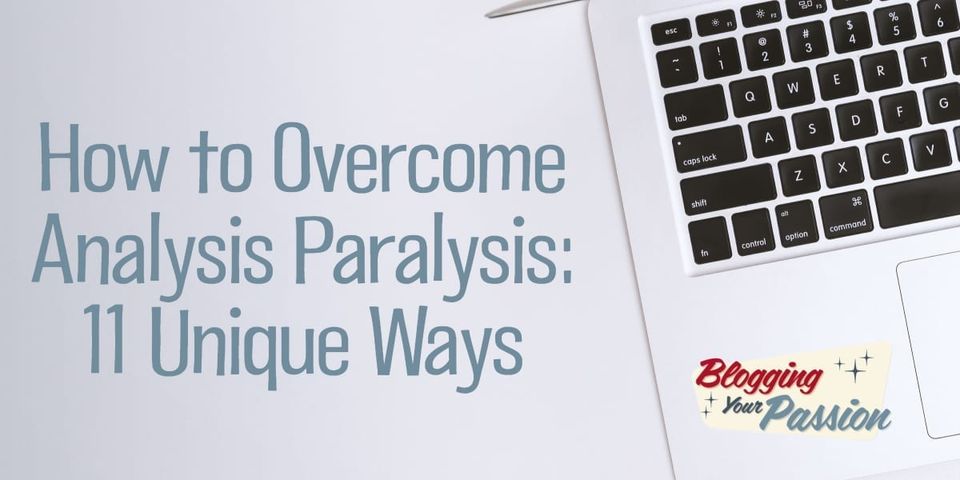 For too many years analysis paralysis was the ruler of my life. Each and every day it sat on my shoulder offering me all the reasons why I should leave my proverbial boat tied to the shore.
It squashed every new idea, project, goal or thought. It encouraged me "t0 play it safe." Finally, one day I had enough. That is what today's post is all about.
Take out a piece of paper and answer "yes" or "no" to the following questions:
Do you find yourself enjoying the learning process more than taking action?
Do you write down goals only to abandon them within a few weeks?
Does the pain of failing feel worse than the pain of not taking action?
Does the fear of not being good enough dominate your thinking often?
I am not a doctor, but if you answered 'yes' to the majority of the questions above then I have a diagnosis for you.You have the Analysis Paralysis Syndrome.

FREE BOOK: Your Message Matters
Inside this 267-page book you'll discover a simple four-part framework on how to turn your passion into a platform! Click below and we will send you the book (just pay shipping).
How to Overcome Analysis Paralysis
1. Decide that the simplest solution is almost always the best solution.
This principle took me awhile to learn. We often make things more complicated than they need to be. Occam's Law states "The simplest solution is almost always the best solution."
2. Place a high value on the speed of implementation.
Re-wire your brain for action. When you learn something new that aligns with your goals, just go for it. We often drag out the implementation of an idea longer than necessary. Not to throw another universal law at you, but I believe it to be true. Parkinson's Law states "work expands to fill the time available for its completion." Oftentimes we make a project longer than what it needs to be.
3. Decide to become a rainmaker.
I love the term "rainmaker." A rainmaker is "an influential character that has the ability to attract followers, build trust, and earn authority in a specific niche." If you have a passion for your niche, let it shine. Do not just cover topics that you think are easier to rank for in the search engines. Cover all aspects of your niche and really go for it! For more info on becoming a rainmaker, read 11 Ways to Become a Rainmaker.
4. Don't dream big and act small.
The next three points I covered in detail in the post: What Are You Working on Big? I still think they are worth a mention here. It is easy to dream big, but hard to "act in a big way." When we act small, we serve no one. As Seth Godin so eloquently said, "If your not making a difference, it's probably because you are afraid."
5. Decide to Fail at Something.
The pain of failure is a big enemy. It keeps us in analysis paralysis. The biggest question I often get is "what if I blog for an entire year and nothing happens? I don't want to waste my time." Trust me, I understand where they are coming from. What we bloggers often forget is that we are creating an asset. The worse case scenario is to go sell your site at Flippa.com. Pretty good downside if you ask me.
6. See perfection as your #1 enemy.
Many bloggers want everything to be perfect. They do not want to face criticism. They want every duck in a row before they take a step and they often want a guarantee of success before they start. It just doesn't work that way. As I have said before: "Taking massive action without a guarantee of results is where champions live." Decide today to make perfection your #1 enemy.
7. Appreciate any step that moves you forward.
The next 3 points come from the post: Finding Fulfillment in the Gap. We are all or nothing people. Overcoming analysis paralysis might be as simple as shooting for "quick wins." Some quick wins might be: getting your first Facebook "like" or obtaining your first blog comment.
8. Embrace new discoveries along the way.
Never lose the "art of play" when it comes to your work. Feel free to experiment and look for new discoveries along the way. Sometimes experience is worth more than education.
9. Have a real love for the journey.
Develop the "brick by brick" philosophy. Success doesn't happen overnight. Someone will always be further ahead than you. Instead of seeing the daunting mountaintop fix your eyes on the next foothold.
10. Only focus on starting.
Remove the obstacles from your thinking and just focus on starting. Set a timer for 30 minutes and just go after that task, project, or goal with reckless abandonment for 30 minutes. You might be surprised how far you get in 30 minutes time. Just focus on starting. Overcoming procrastination can be as simple as just starting.
11. Focus your efforts in 90-day increments.
I covered this in the Simple Blog Business Plan and in a post about a Simple Whiteboard Goals System that I use. I said earlier that a blog is best built "brick by brick." So, the next question is: "What are your bricks?" I see bricks as 90-day projects.

Take out a calendar and divide it into 4 sections. For me it is: January-March, April-June, July-September, and October-December. My whiteboard hangs on the wall above my computer. I currently have 19 items that I want to get done in the next 90 days. When I sit down to work, I know exactly what it is that I need to work on.
Question: What tips or advice do you have to overcome analysis paralysis?

FREE BOOK: Your Message Matters
Inside this 267-page book you'll discover a simple four-part framework on how to turn your passion into a platform! Click below and we will send you the book (just pay shipping).