How to Maximize BufferApp with the iPad or iPhone
I believe strongly in sharing great content produced by others. Some advise against it. Why would you want to refer people to other great blogs when you are trying to build a platform of your own? That is such a limiting mindset. An abundance mindset thinks: "Why not be the most resourceful person i
I believe strongly in sharing great content produced by others. Some advise against it. Why would you want to refer people to other great blogs when you are trying to build a platform of your own? That is such a limiting mindset. An abundance mindset thinks:
"Why not be the most resourceful person in your niche?"
Others can't help but follow you because they know you are the "go to" source about __________ (fill in your passion). I want to be known as the blogger who genuinely adds value to others whether or not it benefits me personally.
How to Maximize BufferApp with the iPad or iPhone
I love the concept of "be everywhere." Of course, it can be a time challenge for most to adopt this philosophy. This is why it requires you to work smarter and not harder. One way you can do this is through using tools like the BufferApp. I love the BufferApp and use it along with HootSuite to manage all my social networks.
I have recently seen improvements in some of the iPad and iPhone apps that make using Buffer  so much easier. Here are two for you to consider:
FeeddlerPro for iPad and iPhone
The first step in setting up your system is to sign up with Google Reader. Subscribe to several RSS feeds in your niche. Google Reader makes it easy for me to scan hundreds of blogs and find the cream of the crop to talk about. FeeddlerPro for the iPad and iPhone work great for this. Anytime I have some downtime in the day, I take a look at a few blog posts in my niche and decide whether they are "share-worthy."
Once I find an article I like, I simply hit the share button inside FeeddlerPro and I have an option for Buffer (see pic below).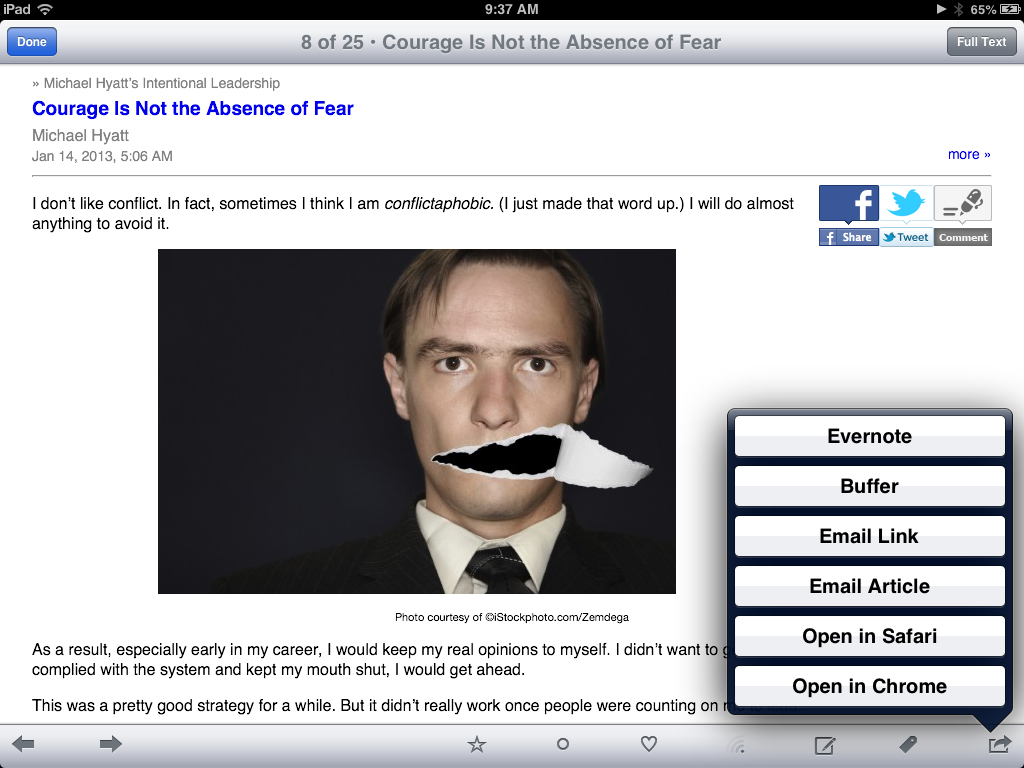 Now, I can add some of my own comments to it, select the social networks I want to share with and I am done. Buffer takes care of the rest. If you subscribe to your own RSS feed, you can also mix in sharing the latest blog posts you have created as well. You can use this system for both iPad and iPhone.
TrapIt for the iPad
I believe this is a fairly new iPad App and I am still experimenting with it at the moment. With the TrapIt App, you tell the app a topic you want to follow and it collects content from many different blogs. This allows me to have a wider perspective then just the blogs I subscribe to. It also allows me to constantly be discovering new blogs I may want to subscribe to.
As you discover articles you like, give it a "thumps up" as this will help TrapIt develop a better filter for the type of articles you want to read about. Once you find a good article, hit the share button and now you have an option to "Buffer."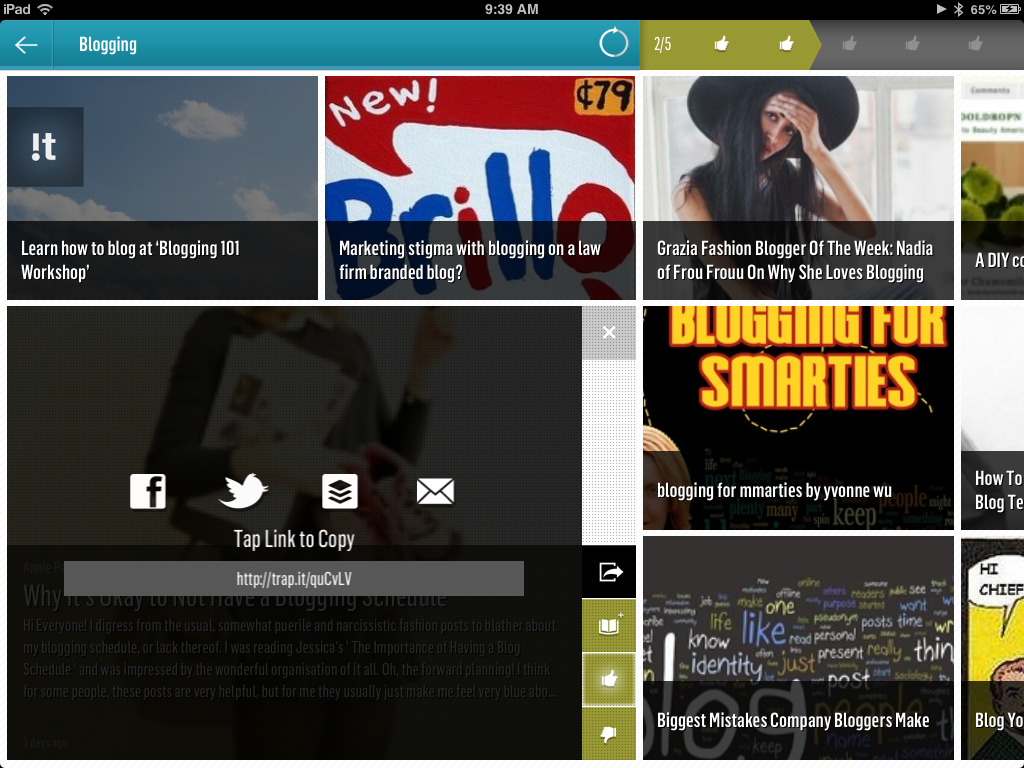 Once you hit the Buffer button, a window pops up allowing you to select which social networks you want to share with. You can also add any additional comments as well and then send it off to the Buffer.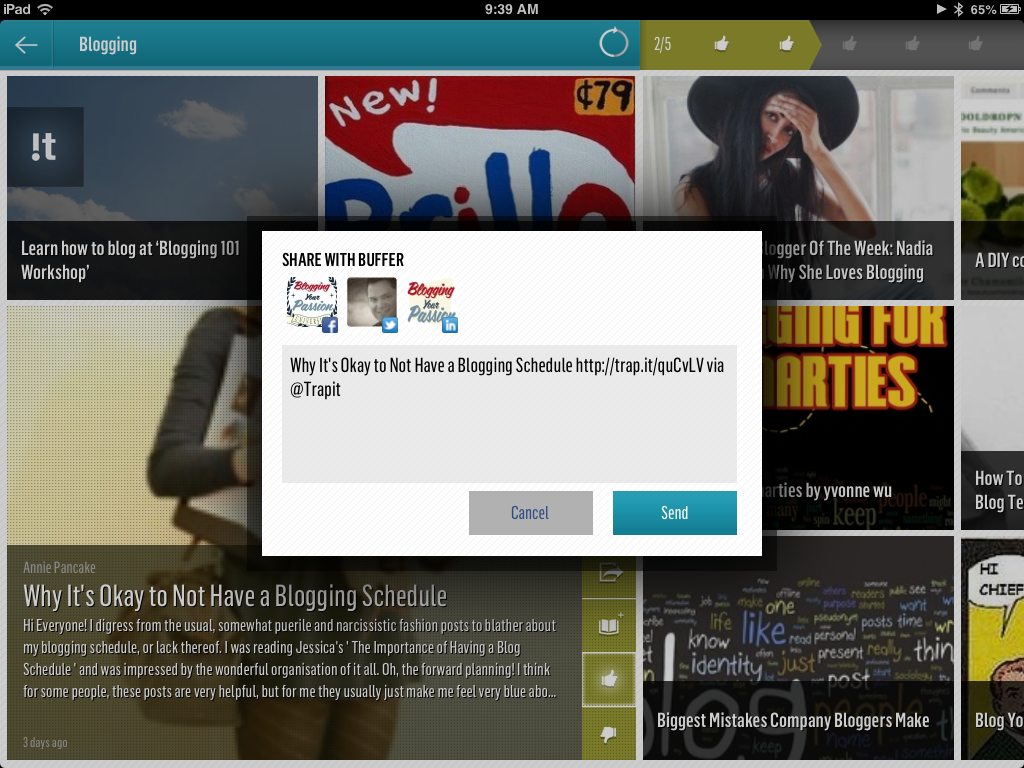 I try to spend my downtime in the evenings or during lunch to spend some time reading and "buffering." It is a great way to be known as a resourceful person and build a following all at the same time. Give it a try and see how it works for you!
Question: If you use the BufferApp, what are some handy tips that you can share?