How to Manage Multiple WordPress Blogs in One Dashboard
If you are like most bloggers these days, you have several interests and passions. Although when just starting out, it is recommended that you stick with one blog and put all your effort into getting it off the ground. Still, as easy as it is to set up multiple blogs, you may eventually find yoursel
If you are like most bloggers these days, you have several interests and passions. Although when just starting out, it is recommended that you stick with one blog and put all your effort into getting it off the ground. Still, as easy as it is to set up multiple blogs, you may eventually find yourself trying to manage multiple wordpress blogs. Sure you can always bookmark each blog and flip back and forth by clicking and logging into each. Wouldn't it be cool to manage all of your blogs inside one WordPress dashboard.
How to Manage Multiple WordPress Blogs in One Dashboard
Now, there are several options out there for you to consider. Some are plugins that you can try out and see if you like. Others are a bit more technical to set up like WordPressMU. However, I have been using a free multiple wordpress blog management system for the last several months and have really enjoyed it. This multi blog management system is free to use while it is in beta. If you manage multiple blogs, I would encourage you to check it out.
This multiple wordpress blog manager is called ManageWP. Once inside, you can sign up each of your blogs. I am really digging the look and feel of how this works. To start, you have to install one small plugin on each blog. Then, you can easily add your blog to the system. Inside the ManageWP dashboard, you can switch blogs with a click. No logging in and out of each, it really streamlines things for me.
Some other cool features that I like:
Google Analytics Integration – you can attach your google analytics and see stats in the main dashboard for any of your sites.
Easy WordPress Upgrades – with the click of a mouse you can upgrade all of your blogs with one click of the mouse.
Easy Add/Delete Plugins – you can also add/delete plugins across each of your sites. So, if you come across a new plugin that you want to add to all of your blogs, you can search for the plugin inside your dashboard, choose which blogs to add the plugin and instantly add the plugin across all sites.
Approve and Delete Comments – you can also manage all of your blog comments inside one dashboard.
Manage Blog Backups – This is a really cool feature. ManageWP can backup all of your blogs on an automatic schedule. You can choose whether you want a full site back up or just a database backup to occur. In the settings you can either email that backup to yourself or download it to your computer. The point is if your site goes down, you can log into ManageWP and download the latest backup copy.
Email Notifications – you can also elect to receive email notifications anytime new WordPress, WordPress plugins, or Theme updates become available.
There are several more benefits to giving this a try. If you are trying to manage multiple blogs, this is the minimalist way to do that. Give it a try while they are still in Beta. Would love to hear your thoughts. One tip, be sure to add the ManageWP plugin from the WordPress Plugin Depository before trying to add your website inside the dashboard. Otherwise, you may start pulling your hair out. Once you take the initial step to do this, you can begin to manage multiple WordPress blogs inside one dashboard. I am sure with like anything there are some potential downsides (especially with this still in Beta), but for me, so far so good using this system. I have become much more efficient and better focused by only having one browser window open at a time.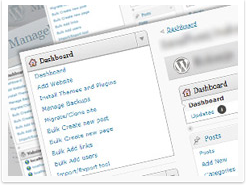 Question: If you have multiple wordpress blogs, what do you use to manage all of them?