How to Increase Your Focus as a Blogger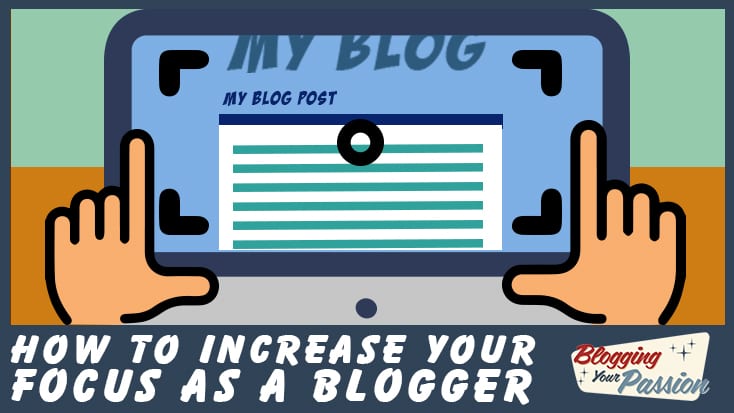 Spread too thin?
That's how most bloggers describe themselves. There's too much to do and not enough time to do it all. You sit down to work on your blog and your mind quickly goes in a million different directions.
"Should I write my next blog post, check social media, create an email opt-in, or work on my online course?"
Learning how to increase your focus can be challenging!
The good news is, there is a remedy. Stop beating yourself up with what you consider to be lost time and a lost opportunity.
Today is a brand new day.
You just need to execute on one thing to increase your focus as a blogger – a focused plan that utilizes your unique strengths.
Below is a four-step plan to help you learn how to increase your focus and grow your blog.
Step 1. Know which level of blogger you are.
The reason you feel stretched too thin is because you are trying to work on everything all at once. You make 10% progress on five initiatives instead of moving one important initiative to 100%.
The way out of this trap is to only focus on what's most important according to which level of blogger you are.
After working with thousands of bloggers, I've determined that there are really only four levels to blogging full-time.
Which level of blogger are you?
Level 1. Rising Star – You don't have a blog launched yet.
Level 2. Traffic Apprentice – You have a blog, but don't have at least 10,000 blog visitors yet.
Level 3. ListBuilder Pro – You have a blog, some traffic, but don't have 1,000 email subscribers yet.
Level 4. Money Maverick – You have at least 1,000 email subscribers, but want to earn more income with your blog.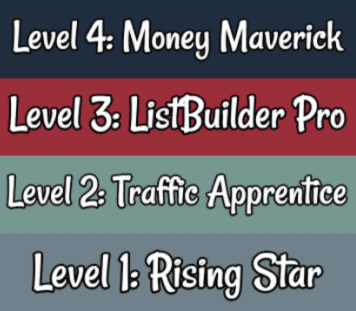 Once you've identified your blogging level, you need to focus 100% on the milestone that will get you to that next level.
Level 1. Rising Star (Milestone): Have a blog launched with five posts.
Level 2. Traffic Apprentice (Milestone): Get your first 10,000 blog visitors.
Level 3. ListBuilder Pro (Milestone): Get your first 1,000 email subscribers.
Level 4. Money Maverick (Milestone): Earn your first $1,000 blogging online.
Let your current milestone drive your thoughts, behaviors, projects, and actions. Intentionally procrastinate on everything else for right now. Give yourself the gift of clarity and focus.
Step 2. Nail down your 90-day goals.
Once your next goal is clear, set a 90-day agenda to make progress. Here is a quick review of my process.
First, set no more than two to five 90-day goals. Resist the urge to spread yourself too thin. If you are ambitious, then set a few goals in the "waiting area" and add them later if you knock out a few of your current goals.
Second, break down your goal into two-week sprints. What needs to happen in the next two weeks for you to feel you've made progress toward your goal? These are small projects that usually require no more than ten tasks to complete them.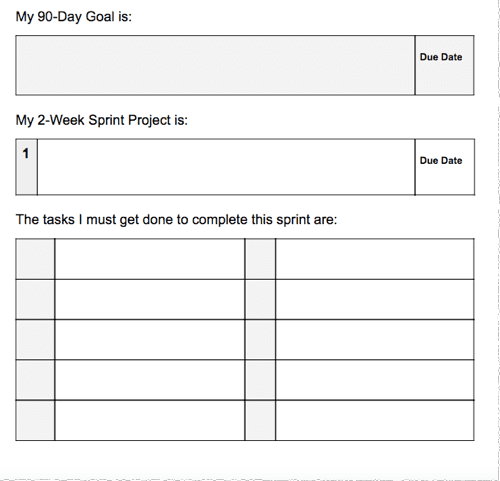 Step 3. Carve out two to three focus sessions over the next seven days.
Breaking your goals into two-week sprints still isn't enough. You have to schedule focus time on the calendar or it simply will not get done.
This step is simple, but most people never do it. Open up your calendar right now and find two to three blocks of time (45-60 minutes) where you can work on your blog. Put it on the calendar and be intentional about it!
Step 4. Understand your personal strengths and automate or outsource the rest.
Do you know what your top strengths are? If not, you can take a test like the StrengthsFinder assessment to help you understand what your top five strengths are.
Once I better understood where I work best, I began to design my blog business around my strengths. I stopped doing things that I wasn't very good at or that drained my energy.
Anything that wasn't in my "zone of genius" became a candidate for either automation or delegation. We have so many no-cost or low-cost tools available that can help us save time, money, and energy. Take advantage of them!
🚀
Free Video:
How to Build an Online Business as a Writer or Coach (The Low-Tech Way) That Creates Time and Financial Freedom
(Without Feeling Overwhelmed by Technology, Self-Doubt, or Too Many Choices)
Click Here to Watch Now