How to Get Paid to Speak Online: 4 Proven Methods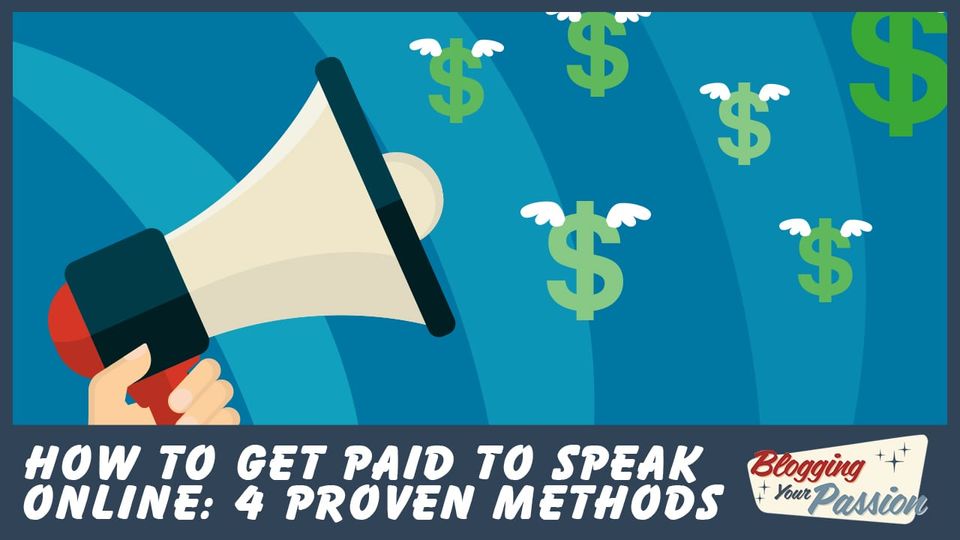 Our world is constantly evolving. It's no different for professional speakers. If you love the thought of getting paid to speak, there are more options available to you today than ever before.
There's nothing more exhilarating than taking a stage to speak to hundreds, or even thousands of people at once. You can feel the energy and hear the applause in the room. You know you've connected when there's a line of people who want to speak to you afterward.
While you can, and should, pursue those opportunities, I want to share with you some ways I've been paid to speak online.
No, these don't replace the benefits of being in the same room with your target audience. But they can provide you with additional income between your speaking gigs.
4 Proven Ways to Get Paid to Speak Online
1. The Masterclass Method
The Masterclass Method is one of the first ways I made money with my website. For this method, you'll want to find a hot topic or a pain point your audience resonates with and create a single class for it. You'll deliver your class via a webinar platform, but it won't be free like most webinars.
For the Masterclass Method, you will charge a low dollar amount, usually between $7-$20. It may not seem like this method would generate much revenue, but it can scale fairly quickly. In the very first masterclass I did back in 2011, we had 47 people pay $7 to attend. That's $329 for an hour of teaching.
Price: Low dollar, but high volume (under $20)
Time investment: 60-90 minutes
2. Workshop Deep Dive Method (2-3 hours)
I've noticed a surprising trend lately. Many experts are hosting long webinars to the tune of three to four hours and charging people to attend. From what I've seen, people love this type of "deep dive" learning. I've held two of these types of webinars in the past six months, and we had just as many attendees after three hours than when we began.
The key to an effective online workshop is to use the 40/10/10 strategy.
Teach for 40 minutes, take questions for ten, and then give everyone a ten-minute break during the live webinar.  The Workshop Deep Dive Method would be similar to attending an in-person, half-day workshop without the travel costs.
We tell our attendees at the beginning of these three to four hour online workshops to treat it with the same importance as if they were there in person.
Price: Low to medium range ($50-$200)
Time investment: 3-4 hours
3. Webinar Series Method (3-4 Separate Webinars)
A four-part paid webinar series was the first official product we created here at Blogging Your Passion. We charged $247, had just over 40 signups, and collected close to $10,000. We held the training on four consecutive Thursday nights. Each session tackled a specific challenge most bloggers faced and left time for a Q&A session.
Pro tip: We recorded each of the sessions. For the following 18 months, we made additional income just by selling access to the recordings.
The Webinar Series Method is similar to the Workshop Deep Dive but the training is spread out over the course of a few weeks. This allows the attendees to take action on what they learned week-to-week.
Price: Medium range ($250-500)
Time investment: 3-4 weeks
4. Partner Masterclass Method (Free Teaching + Paid Advanced Course)
The Partner Masterclass Method (also referred to as JV or affiliate marketing webinars) can ramp up your business in a hurry. If done correctly, you can boost both your email list and income at the same time.
For this concept, you would partner with another expert and host webinars for their existing audience.
Since you are hosting the event, people who want to attend will join your email list. With the Partner Masterclass Method, you are able to nurture a longer relationship with them well beyond the webinar itself. The biggest difference between this method and the others I described above is you do not charge for the webinar.
Your job is to provide a ton of value for the audience while growing your email list.
At the end of the webinar, you let them know you have more advanced information on this topic in your online course or coaching program. That's where your opportunity is to make money.
Any income you earn from the sale of your coaching or online program during the webinar will be split 50/50 with your JV partner. When done correctly, this method can be a win/win for everyone involved. I have a friend who started with zero subscribers and built his list to over 20,000 subscribers in 12 months using this method alone.
Price: Low to High ($100-$1000+)
Time investment: 90 minutes
There are several ways you can get paid to speak online. If you're a speaker, I would encourage you to move in this direction. Adding the skill of teaching or speaking online can double or triple your impact and income.
A few necessary tools you'll need:
Zoom Webinars – This is my go-to platform for hosting online webinars, online workshops, and masterclasses. It's easy to use and very cost-effective. The quality is one of the best out there.
ConvertKit Email Marketing – If you want to make an impact and build an audience online, you'll need an email marketing solution. My preferred resource is ConvertKit. It makes the process of collecting and sending email very easy.
Which of these 4 methods are you the most excited about?
🚀
Free Video:
How to Build an Online Business as a Writer or Coach (The Low-Tech Way) That Creates Time and Financial Freedom
(Without Feeling Overwhelmed by Technology, Self-Doubt, or Too Many Choices)
Click Here to Watch Now