How to Easily Add Google Authorship to Your Content
Over the last month or so I have been making a concentrated effort to expand my online brand with Google Plus. I realize that there is a big debate online and that there are both "lovers' and "haters" of Google Plus. Whether or not you want to add Google Plus to your online marketing toolbox, … How
Over the last month or so I have been making a concentrated effort to expand my online brand with Google Plus. I realize that there is a big debate online and that there are both "lovers' and "haters" of Google Plus.
Whether or not you want to add Google Plus to your online marketing toolbox, I would encourage all of you at the very least to verify your Google Authorship. Verifying authorship with Google can benefit you in the following ways:
Easily build your online brand (your picture and name appears in the Google search results)
Gain more search traffic (your profile picture stands out above the other search results)
Verify that you are the original creator of your content (this helps Google to know who the original author is in cases where people re-publish your entire article)
Expand your online footprint (your profile pic, name, and Google plus profile can be attached to any sites that you write for)
How to Easily Add Google Authorship to Your Content
I have done this the hard way and the easy way. Trust me when I tell you that what I am about to tell you is the easy way. There are many video tutorials and lengthy blog posts that show you how to get into the coding of your site and make the changes necessary to claim Google Authorship.
Thanks to the guys over at Keyword Strategy for creating a simple WordPress Plugin that can streamline this entire process. Here are the steps that I took to verify Google Authorship with Blogging Your Passion.
1. Open a Google Plus Account
If you have not already done this step, then you will need to in order to complete the process. You do not have to be a heavily active user of Google Plus to verify authorship. You will need to at least fill out your profile page.
2. Add the Blogs Where Your Write Content
I did not mention this step in the video below, but I have heard that it helps the verification process. On your profile page on Google Plus there is a "Contributor to" section. Fill out all of the websites where your create content. See the pic below for an example.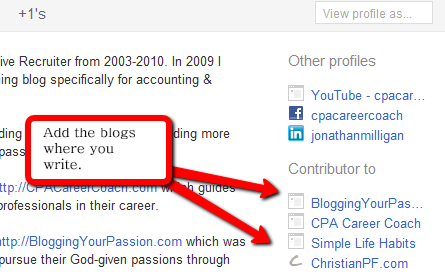 3. Install the Google Authorship for Multiple Authors WordPress Plugin
The next step will be for you to install the Google Authorship for Multiple Authors Plugin. Even if you are a single author, this plugin will still work for you. This plugin was created by the guys over at Keyword Strategy. It is a free plugin and simple to use. It adds a Google Authorship Area to your Profile page inside WordPress (see below).

4. Copy and Paste Your Google Plus Profile Page in WordPress
The final step will be for you to connect your WordPress Profile Page with your Google Plus Profile. Go to "Users" and then "your profile" in the WordPress navigational bar on the left side. Scroll down until you see "Google Authorship Area." Simply copy and paste the URL Address from your Google Profile Page. Mine looks like this:
https://plus.google.com/u/0/112563894869687827911/
In fact, click on the above link and add me to your circles 🙂
Paste your Google Plus Profile link into the Google Authorship Area and be sure to save it.
5. Run a Test to See if You Set it Up Correctly
There is a simple way to test whether or not you did everything correctly. The tool is called the Rich Snippets Testing Tool. What you will want to do is grab the URL Address of a recent blog post that you created. Paste it into the tool and see if your profile picture is added.
Keep in mind that it may take a few days for Google to re-index your site and add your profile pic to the Google search results.
Below is a video tutorial that I put together showing you step by step how to do what I mentioned above. If you cannot see the video below, watch How to Easily Verify Google Authorship directly on YouTube.
If you have followed all of the above steps, you should begin to see your profile pic along with the search results. Below is an example of what you might find.