How to Create a Quality eBook in 5 Minutes from Your Old Blog Content
One of the great things about blogging is that it allows you to share your knowledge and passion a bit at a time. Over the long haul, you can look back and be amazed at the work you have done. I want to share with you just one idea of what you can do to … How to Create a Quality eBook in 5 Minutes
One of the great things about blogging is that it allows you to share your knowledge and passion a bit at a time. Over the long haul, you can look back and be amazed at the work you have done.
I want to share with you just one idea of what you can do to re-purpose old content. The idea is simple. Take a category or a series of blog posts and turn them into an ebook. I have known some to sell these ebooks on their site.
Now, you say wait a minute. It is available for free online. This is true, but many bloggers have been known to even compile their old posts, better organize them, make some edits, and publish hardcover books. People will often pay for convenience and for the ability to read it in their favorite ebook reader.
If you don't want to sell them, then give a PDF away as a free gift in exchange for newsletter sign-ups.
How to Create a Quality Ebook in 5 Minutes
Here are two ways that you can create an ebook in 5 minutes.
Google Docs – You can simple copy and paste your content one blog post at a time into Google Docs, add some pictures, and then download as a PDF. Simple process really.
Use JoliPrint – Joliprint is a cool free service that will take your old blog posts and convert them into sharp looking 2-column pdfs. They even have a cool email feature. You can send up to 10 links via email and it will email you back a newly formatted (pictures included) PDF that you can distribute. What is great about it is that it strips away everything else except the content and the pictures.
If you want to create your own two-column PDF, then follow these steps.
Select up to 10 links (URLs) of old blog posts that you have written
Arrange them in logical order in the body of an email.
Send the email to [email protected]
Wait about 2-3 minutes for a return email and a cool looking PDF
Look at the picture below to see how I arranged the email before I sent it. I took our top motivational blogging posts and sent them to joliprint to create one PDF.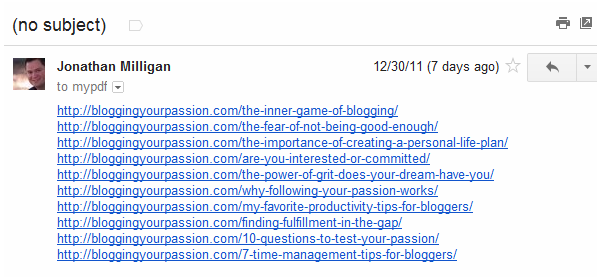 So, what was the end result? A 20 page, 2-column ebook. The cool part is that all of the links are still live in the PDF (even the affiliate links)!
I embeded the PDF below so that you can have a look. If you want to read it later, you can download the PDF if you would like.
The only downside that I see with using joliprint is that you are a bit limited. The bottom of each page is branded with the Joliprint logo and there really is not much editing that can be done. I have read that you can email them about a premium publisher program that allows you to brand the pdf how you want without the Joliprint logo.
I have emailed them about more details but I have not heard anything as of yet. For now, have fun and think about all the possibilities of using this tool.