How to Build Your Brand and Increase Your Followers Through Email
Those of you who are marketing experts understand that you can not build a brand just doing one thing. It is often said that for brand name recognition to take place you must have at least 7 touches. In the pre-internet days, "touches" represented magazine ads, tv commercials, store product displays
Those of you who are marketing experts understand that you can not build a brand just doing one thing. It is often said that for brand name recognition to take place you must have at least 7 touches. In the pre-internet days, "touches" represented magazine ads, tv commercials, store product displays, newspaper advertisements, phone calls, and door-to-door salesmen.
The big players in the branding market won because it was all about "throwing the most dollars" in order to build a brand. Today, with the internet the playing field has leveled. Building a brand is much easier for the average person to do.
Anyone, anywhere at anytime can build a brand online through YouTube, blogging, Facebook, Google Plus, Twitter, and even email. I want to share with you a simple branding tool you may not be using for your blog. That branding tool is email.
We set up several blogs a week through our Free Blog Set Up Service. One question that we hear a lot is how to set up a professional email correctly. While there are many ways to do this, I am going to show you the way that we have ours set up. Even if you manage multiple blogs, this set up will work for you. I have all of my blogging email accounts go directly to one gmail account.
1. Set up a professional email account using your domain name.
Most people do not realize this, but when you buy a hosting account you also get email addresses that you can create. First, you need to log into your cpanel. If you have set it up correctly, you can find it at: mydomainname.com/cpanel. Once inside, look for the email section and click on email accounts (see picture below).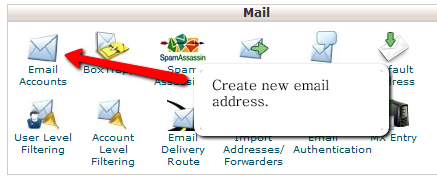 Now, all you need to do is come up with an email address. You can use your first name or a generic word like "info" or "admin."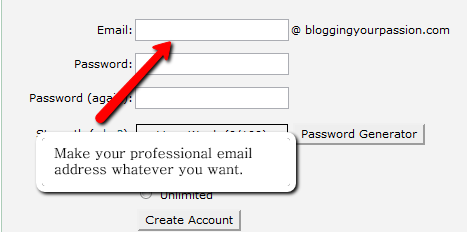 Once you have chosen your name, click on "create account." Next, I would recommend that you have all of your email forwarded to a gmail account. You can either create a new gmail account or just use one that you already have. Don't worry. If you do not want someone to know your personal email account, I am going to show you how to get around that.
In order to forward your new email address, you need to click on "forwarders" inside your cpanel account. See the picture below to see what I am talking about.

Once you click on "forwarders" all you need to do is fill in the email address you would like to forward and which email address it is going to.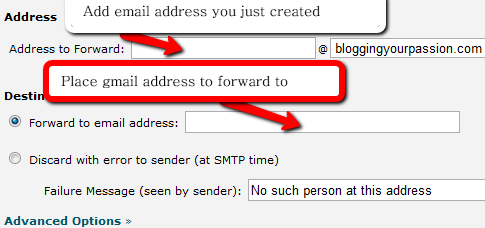 For the next step you are going to need to log in to your gmail account. By adding the new email address under settings you will be able to not only accept email from your new account but send email using your new address too!

Click in the accounts and import option under the settings in your gmail account. Then you will need to scroll down a bit until you find "add another email address you own" (see below).

You will have to do an email verification step, but once that is done, you will not only be able to receive email from [email protected] but you can send from gmail as that email address as well. All you have to do is select the right email address in the "from" section.
2. Use Wise Stamp to Build a Professional Email Signature
The last and final step is optional but I think it is a great branding tool. I use the  Chrome browser which allows you to add "extensions." The one I use for the email signature is called Wise Stamp. You can use it as an add-on for Chrome as well. Here are 3 reasons why I love Wise Stamp as a blog branding tool.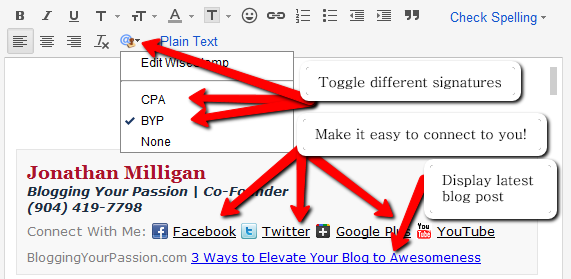 1. I can choose which signature I want to display. All I have to do is toggle my email addresses right inside gmail.
2. I make it really easy for people to connect with me on all of the popular social media outlets.
3. You can put in your RSS feed and automatically display your latest blog post.
This might take a bit of time to develop, but once it is set up you can display a professional image and build your brand at the same time.