How to Backup WordPress (Automatically)
I am always surprised at the number of bloggers that do not have a system for backing up all of their hard work. Yes, I agree that there are a lot of reliable services out there. I have been with Host Gator now for over two years and they have proven to be an extremely … How to Backup WordPress (Au
I am always surprised at the number of bloggers that do not have a system for backing up all of their hard work. Yes, I agree that there are a lot of reliable services out there. I have been with Host Gator now for over two years and they have proven to be an extremely reliable service. That being said, anything that could go wrong, can go wrong. I know I have messed up my site a time or two as I was attempting to make what I though was a minor tweak. Also, there are hackers on the prowl and they can cause havoc in a lot of different ways.
Automatically backing up your site is a smart strategy if you ask me. Let me share with you how to backup WordPress automatically. What is great about having regular backups is that you can use them in a lot of different ways. For example, if you make several changes and decide that you want to go back to the way things were, just use a recent backup to get back to the way things were.
Why I Like Code Garage to Backup WordPress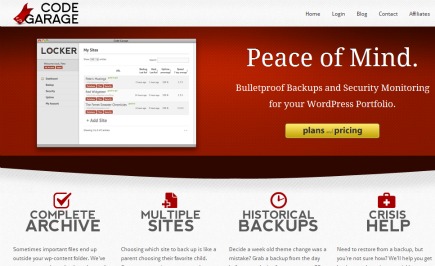 There are some services out there that charge as much as $40 a month to backup and secure your site. Code Garage starts at just $25.00 a month and it is good for up to 10 blogs (if you have multiple sites). I also like that they make a complete backup. Be careful about some of the free plugins that claim to do backups. You have some important files outside of your wp-content folder that you need to keep as well. Code Garage also archives up to 30 days of backups for you. They do a full backup daily and allow you to have access to all 30 WordPress backups.
Here is the best part:
They will restore a backup for you if you ever need to have a full restore. Now, that is a big perk!
Some other reasons why I like Code Garage:
They provide up-time monitoring for your sites and will let you know if your site is ever down.
They perform security scanning for any potential problems that might be happening on your sites
They are always fast at responding to any email inquiries.
That is a great value at just $25 a month if you ask me. As a blogger there is one other potential pitfall that you might have if you are not careful. Backing up your personal computer is also a good idea. Do not wait until you get the error message or the blue screen to do something! If you are like me you have many important files and software programs that you use in connection with blogging. The best program to use to protect your computer in my opinion is Mozy. They have several different programs and you can get started for as little as $5.99 a month. Like their website says "every email, file, and photo is protected!" In fact, right now, Mozy is offering a free 2GB for just trying them out. No sign up or credit card required! Click here to try Mozy for FREE!

Question: What do you use in order to backup WordPress?