How Often Should You Post to Your Blog?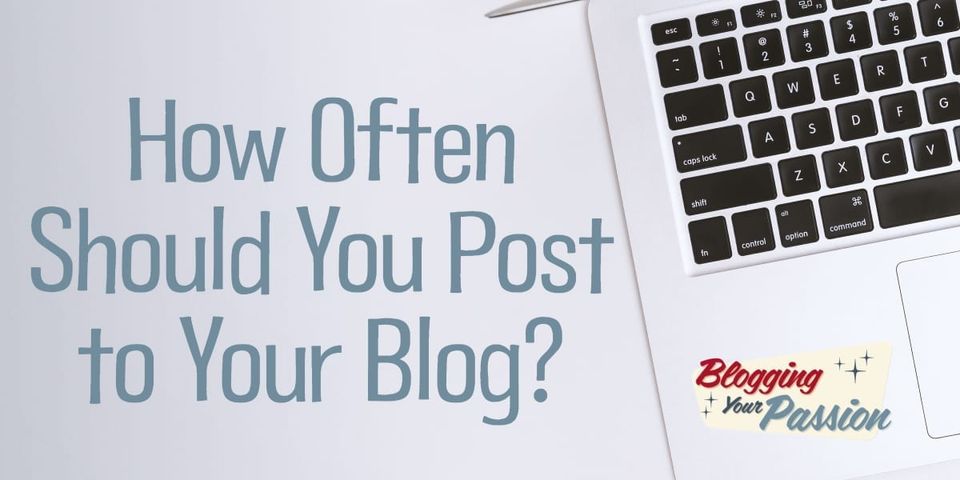 One of the questions that I hear quite a bit is: "How often should you post to your blog?" It is a great question and something all bloggers should wrestle with.
I have spoken with bloggers who are proud of the fact that they make at least a blog post every week. I certainly do not want to discourage some bloggers by saying that a post once a week is not good enough. I guess it comes down to your purpose.
If blogging is just a side thing to your business, then maybe a weekly post is a good discipline. At the same time, if you view blogging as your main marketing tool and you want to earn a passive income blogging, then you must be willing to post new content on a more consistent basis. Here are a few advantages you will receive by dedicating yourself to publishing more content.
Fresh Content Bonus from Google
Google loves sites that are updating fresh, new content on a regular basis. This is one of the main reasons why blogs draw so much more traffic than your traditional "brochure-type" site. There is an action taking place, the information being shared, and the value being dispensed.
You can also benefit from what some people call the "Google dance." Sometimes, fresh content will rank very high for the first few days for a new keyword phrase before it settles in its spot. I have seen this happen all of the time.
More Active Site to Attract More Followers
You want your site to be "socially sticky" as well. If people are visiting your site a new content is going up on a regular basis, then they almost feel like they are missing out!
You can also attract more readers by having plenty of "value-added" content for them to find on your site. You want them to end up visiting for a while because there is so much to explore, learn, and do.
Aged Content Will Rank Better
This is one that I, unfortunately, had to learn the hard way. One of my blogs early on I got really sporadic on adding new content. Sometimes, I would write 3 posts in a week and other times I would go a whole month without posting anything new.
I got distracted on other projects and then one day I noticed something funny beginning to happen. Even though I had not done anything on that blog for awhile, my traffic was increasing rapidly. I only had around 100 posts, but my traffic numbers were beginning to soar.
What I had been told before is true. Over time, Google will begin to trust your site more as time passes. This means that some of your aged content is still good and can work really well for you.
What this means is you need to develop good blogging habits in order to grow
Ranking for a Wider Range of Keywords
This is probably one of my favorite benefits of publishing new content on a regular basis. Although I talk a lot about the importance of keyword research, you still can never be 100% certain about all the keywords any given post is going to rank for.
I am always surprised when I begin to get traffic for a certain keyword phrase that I had not even thought about.
This is one of the reasons that being hooked into Google Analytics is so important.
It will show you what keyword phrases that people are using to find you. Now, what you do with those newly discovered keyword phrases, we will leave for another post.
What this means is you need to develop good blogging habits in order to publish new content consistently and grow your traffic.
Bottom Line About Posting
I have often asked myself this question: "Two years from now (knowing what I know), how often am I going to wish that I had posted to my blog?" For me that answer is daily. Please do not misunderstand. I am not saying that you will never be successful in blogging if you do not post daily.
You still want a good balance between quantity and quality. Yet, if you are blogging your passion, you have a deep well to draw from my friend. In light of the benefits listed above, I want to encourage you to post as much as you are personally able to given your current situation and circumstances.
🚀
Free Video:
How to Build an Online Business as a Writer or Coach (The Low-Tech Way) That Creates Time and Financial Freedom
(Without Feeling Overwhelmed by Technology, Self-Doubt, or Too Many Choices)
Click Here to Watch Now