How I Wrote My First Kindle Book in 30 Days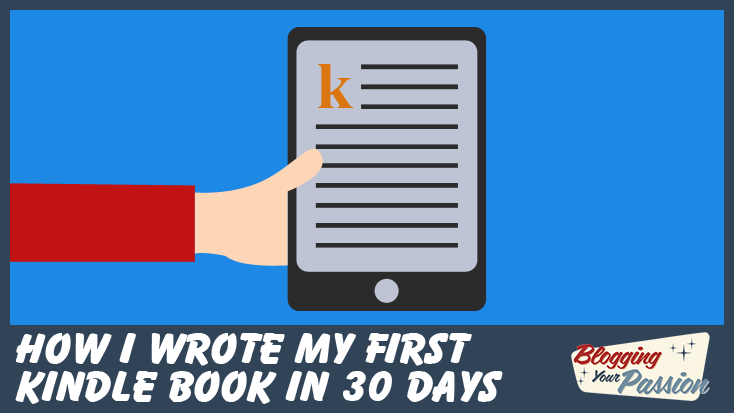 Do you want to write a book? Last time I asked that question to my email list, over 88% of people said yes.
Yet, research suggests that 97% of writers never finish writing their book!
If you have written and published a book, you are in a rare 3% of all writers.
Back in 2011, I was in the 97%. I wanted to write my first Kindle book but I had less than 500 words written after 12 months of establishing the goal. As far as I could tell, I made zero progress after 12 months.
I was discouraged.
In April 2012, I sat down to analyze the reasons why I was procrastinating.
Was it the fear of the message of the book being rejected?
Was it self doubt in my ability to write?
Was it a lack of understanding the self-publishing process?
Or was it simply a lack of having a concrete writing plan?
While the first three questions were definitely holding me back, I knew if I didn't answer the fourth question I had no chance.
The 3 Questions That Changed Everything
That day I wrote down 3 questions. These 3 questions were incredibly simple, yet profound. If you have thought of writing a book or started and not finished, you'll need to answer these 3 questions starting today!
Question 1. Which writing tool will I use?
It sounds so simple and yet I'm always surprised at how many writers have yet to answer this question. While each writing tool has its perks, at the end of the day our goal is a finished manuscript. Let me share with you a few options for you to consider.
Google Drive – Yes, you can write your book using Google Docs. In fact, my wife has written and published two Kindle books using Google Docs. You can access it from anywhere and your work is always saved.
Microsoft Word – While not ideal when it comes to moving around chapters, Word is perfectly acceptable form for writing your book. Amazon even allows you to upload your finished book in a Microsoft Word format.
Yarny.me – Recommended. This was my writing tool of choice for my first Kindle book back in 2012. It is an online writing tool, which means you can access it from any computer. What I love most about this tool is the easy to use interface when it comes to gathering research and moving around chapters.
Scrivener Tool – This is the writing tool of choice for serious writers. If you have plans to write more than one book, then this is a good investment.
Question 2. What is the overall word count goal?
While I never recommend writing to a word count goal alone, having a target does help you get motivated. It takes the big overwhelming goal of writing a book and breaks it down. Writers from across the globe, use this strategy every November in an effort to write their novel in just 30 days.
In fact, it has become known as NaNoWriMo (National Novel Writing Month). They challenge writers to shoot for a 50,000 word count goal and divide it up into the 30 days of November.
When it came to writing my first book, I was overwhelmed with the idea of writing a 50,000+ word book. I decided to use this same strategy to write my Kindle book in just 30 days.
Realizing that the average Kindle only book was between 10,000-12,000 words, I decided to write a series of books instead. This allowed me to select a super-tight focus for book #1 in my series and just get started. My goal was to write at least 1o,000 words for this first book.
Question 3. What is my daily word count goal?
With my new goal of a 10,000 word Kindle book, I needed to break that down even further. I developed this simple formula: 20 chapters + 500 words each = 10,000 word book.
With this new goal, All I needed to do was write 500 words per day for 20 days. This would leave me 10 days for proofing, getting a cover art designed, and publishing the book.
Since I was used to writing 500 word blog posts on average, all I had to do was create 20 blog posts that cohesively fit into a book. That my friend is how I wrote my first Kindle book in just 30 days.
🚀
Free Video:
How to Build an Online Business as a Writer or Coach (The Low-Tech Way) That Creates Time and Financial Freedom
(Without Feeling Overwhelmed by Technology, Self-Doubt, or Too Many Choices)
Click Here to Watch Now