How I Found My Blog Niche: A Tutorial
When I first started blogging I had no clue about finding my niche, but I remembered my high school english teacher's daily mantra: "When you don't know what to write about, write about not knowing what to write about!" Funny thing – it always worked. Sage advice for the creative writer, but not exa
When I first started blogging I had no clue about finding my niche, but I remembered my high school english teacher's daily mantra: "When you don't know what to write about, write about not knowing what to write about!" Funny thing – it always worked. Sage advice for the creative writer, but not exactly a good plan for someone who wants to build a business blog or authority website.
My first few blogs floundered, and it wasn't until I discovered Blogging Your Passion that I learned how to put together a proper blog. Now, before I start spending money on domain names and new hosting accounts, I always try to research a niche before entering it.
Finding Your Niche is a Process
Finding your niche is a relatively simple process, but it does take some homework, research, and planning to get it right. Then once you do settle on a topic, it's important to know that every niche develops over time, and what you are writing about today is likely not what you will be writing about in 24 months. So don't feel like you have to be trapped writing on just one subject. Once you start getting posts up on your blog, reader interaction may guide you, and help make decisions on the future direction of your work.
Here's the process I use to find my blog niche (make sure to view the video tutorial below, which shows you how I use the web to find my niche quickly):
Finding Your Niche Step 1: What Topics Interest You?
When I start a new website I always begin with a list of things that interest me. I start general, and then work to be more specific.  For instance, I'm right now working on starting a new website based in the mortgage loan industry, one in which I have some experience and expertise.  My general topic might be "mortgages" or "loans."  That gets me thinking about the world in which my content will exist, and the type of people who might search for my content.
Then I try to be more specific. I don't want to write about any type of mortgage, I want to focus on hard money loans – a specific type of non traditional loan for investors who can't get conventional loans.
Ok, that narrows it a bit, but can I go further? I'm not really interested in dealing with borrowers directly, I'd prefer to work with their brokers, and to be honest, I'd prefer not to deal with the loan process itself at all. It's messy, requires a litany of licensing, and could be quite a litigious field of work.  Instead, I prefer to teach other people what I know about the business. I'd prefer just to start a teaching/education website that deals only with brokers.  At this point, I think I've defined a pretty narrow niche, and my next step is to determine how fertile that niche will be for content.
Finding Your Niche Step 2: KeyWord Research
I'm not using keywords to optimize searches at this point, but rather to see what readers are looking for in the niche I have chosen to write about.  My goal here is to find enough keyword topics that interest me.  Generally I wont choose a niche unless I can create at least a year's worth of posts, with a frequency of writing just once per week (ie, at least 50 keywords I find interesting).  I do this by using the Google Adwords Keyword Tool, which allows me to input my general niche keywords, after which it spits out a list of up to 800 other related keywords. If I can find 50 that I like, I'll move forward with this niche.
Finding Your Niche Step 3: Size Up the Competition
Once I have my list of topics, I'll start plugging them into Google to see what comes up when people search for those terms.  These people will be my competition when I start posting.  I'll click on the first few pages of Google to check out those websites; how often they post, what their site looks like from a design angle, and also how they interact with readers.  In the niche I specified earlier, education for hard money brokers, you'll see in the video below the first two pages of google results for me is encouraging.  There aren't many of these sites doing anything unusually creative, and I think that if I enter this niche I can create better content and post more frequently, which should help me rank among the first page of Google relatively quickly.
How important is a first page ranking to monetizing your site?  Look at the results from a survey posted by a search engine optimization company taken from data published by AOL.  Of 9 million searches for a particular keyword, 4,926,623 people actually clicked through in this fashion: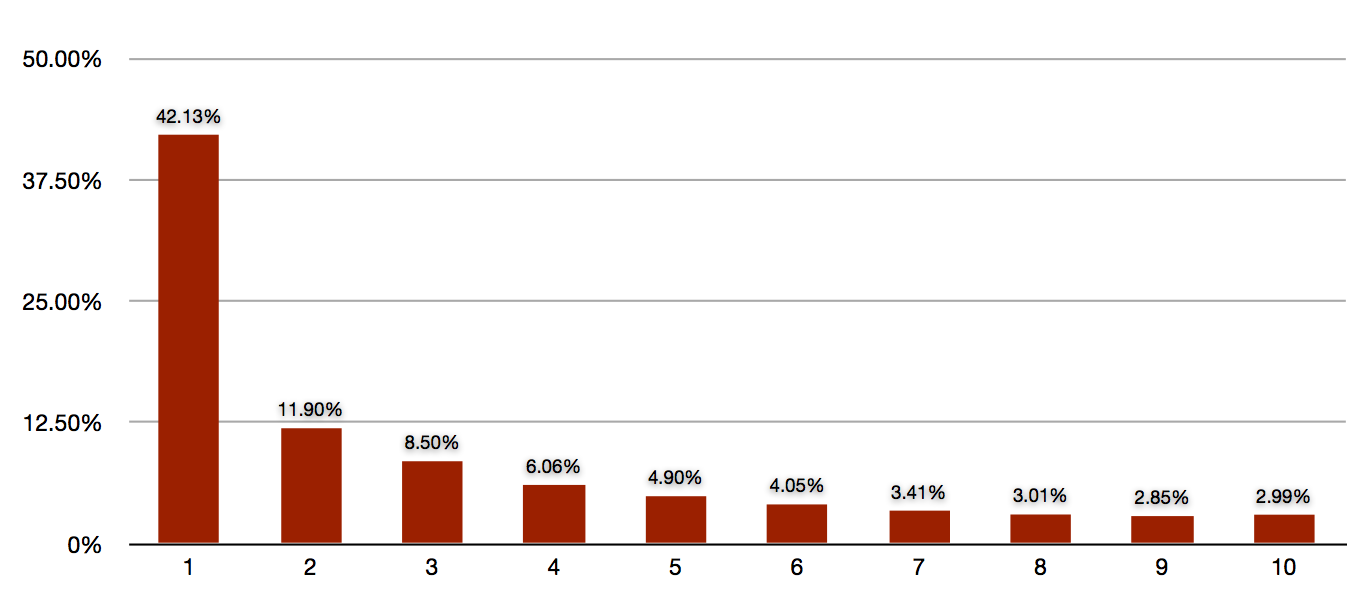 The majority of clicks, over 40% went to the number one ranked search result. The remaining positions drop off significantly.  In case you haven't added the percentages up yet, 89.82% of all traffic goes to the first page results on Google, leaving only 10.18% venturing to the second page of results. If you're not on that first page, your chances of being found drop significantly.
Finding Your Niche Step 4: Rinse and Repeat
If your niche research didn't yield the results you were hoping, go back to the drawing board and start over.  For instance, had I chosen a niche where the first few pages of Google results are for sites that get millions of visitors a day, I might think twice about progressing, because chances are I will never rank as high as they rank.  I would probably go back to the drawing board and refocus my niche, especially if my goal was to monetize this new site.
If my intention was just to share my knowledge and become an authority blogger, and not necesarily monetize that knowledge yet, I might still consider moving forward, even with that uphill battle ahead of me in search ranking.  Still, I'd probably try to narrow my niche to further separate myself from the competition.
When you land at a comfortable place, dig in and get to work. And when you're ready to optimize your blog posts, read these two BYP articles, which were extremely helpful for me:
Don't forget to watch the video watch the video below, which shows you how I went through this four part process on my newest blog venture, and also how to use Google Docs to brainstorm your potential niches.