How I Doubled My Email List in a Single Day
This is a guest post from Brad Andres. He helps people like you understand the Bible and maximize their God-given potential for life. For more of Brad's thoughts, check out his website BradAndres.com. I get discouraged often. There's always something new to do, a new way to promote, a new technique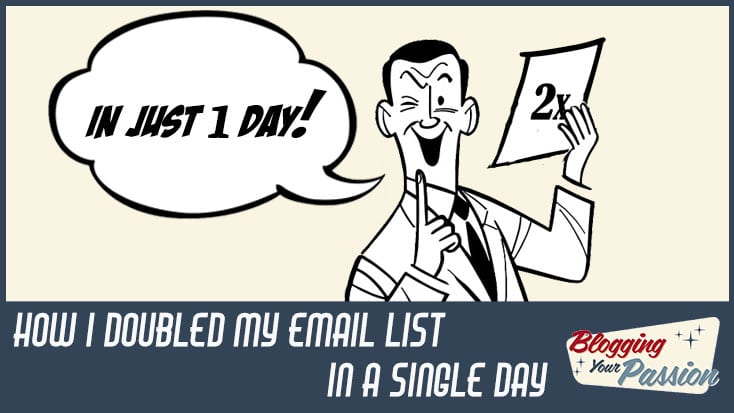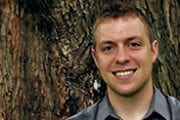 This is a guest post from Brad Andres. He helps people like you understand the Bible and maximize their God-given potential for life. For more of Brad's thoughts, check out his website BradAndres.com.
I get discouraged often. There's always something new to do, a new way to promote, a new technique to implement. There's not enough time to get everything ready for my website. If you work a full time job, and are writing on the side like myself, I'm sure you can relate. It'd be so much easier if I could just write it and they would just come (Thanks Field of Dreams).
As a beginning blogger (3-years), on a small, small budget, there's much that I'd like to do that I pass on. Simply, I do not have the time or the resources. It's sometimes disheartening to hear about thousands being added to an email list, when I'm struggling to get 50 or 100.
I've always wondered how in the world am I going to actually spread my message effectively? How will I actually get readers? Is this blogging thing really going to work?
As readers of BYP, you know the importance of building an email list and guest posting. Here's a few of my favorites:
What I want to share with you is how you can potentially double your email list in a single day.
Be Prepared
If you build it, they will come. Well, maybe, and maybe not. But one thing is for sure:
[Tweet "If you never build it, they will never come."]
So, being prepared makes a difference. You have to have something ready, something for people to respond to. Here's some ideas about being prepared for growth:
Have a public page about accepting guest posts. This is a great way to start if you do not have many connections.
Network, in addition to your writings, to make connections.
Have a email sign-up offer ready.
Do some of the little things that you need to do (you can't do them all).
Be intentional. Invest your time where you can see potential results.
Keep going, when it doesn't go as well as you had hoped. Especially for the first, or second, or even third time…
Maybe you're like me, I had been featured on various web-sites, but had never experienced an explosion on subscriptions to my email list.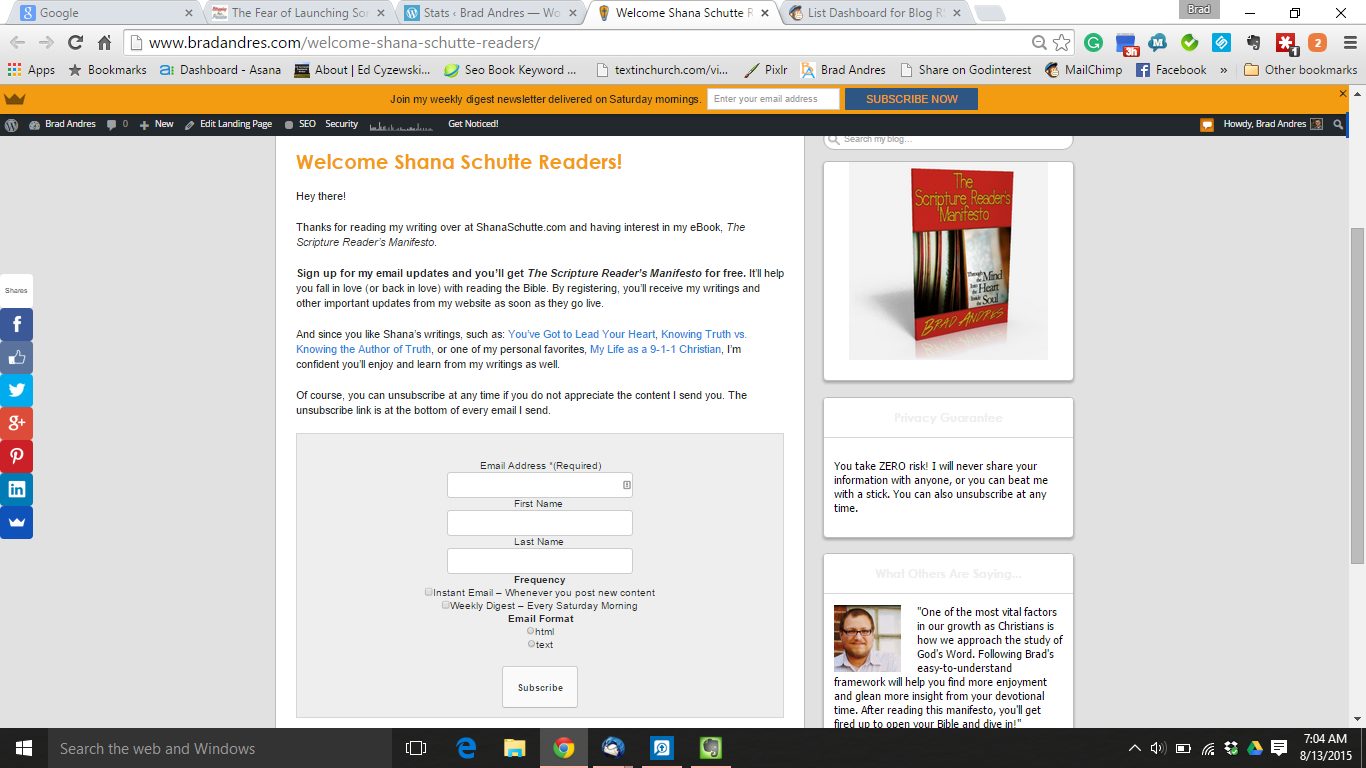 Personalized Landing Page
Because of my frustration, I decided to take a little more interest in this guest post traffic. Rather than sending readers to my homepage and hoping my pop-up or sidebar forms would convince them to subscribe, I personalized a landing page.
Here was my plan:
First: a personalized header welcoming the readers directly where they were from.
Second: I read through my host's blog, and found two or three posts with aspects similar to my writing. I mentioned these posts to help her readers feel a common connection with myself.
Last: I gave the readers no choice but to subscribe or leave. It was make it or break it time.
While I'd love for everyone to visit my site and read 50 posts, my goal is to get them to subscribe to my email list. Therefore, I need to do what I can to help them see that subscribing is the best option for them. Removing distractions is one way to help people make the choice to subscribe.
Clear Offer in the Guest Post
Sometimes, in my guest posts, I've gotten zero email subscribers. Ouch!
While I love helping people understand the Bible and maximize their God-given potential for life, I really want to help them on a continual basis instead of a one-time article.
In my recent guest post, I made my offer completely clear. If they were going to come to my website, they were going to be offered a free e-book in exchange for their email address. In the post, I gave the benefits about my e-book. I didn't place hope in that they would click over once they read my small, little, bio at the end of the article (if they even bothered reading it).
My Results
Before the guest post went live, I had 121 email subscribers.
After the guest post, I gained another 121 email subscribers! I doubled my email list in a single day. Work was involved prior to this day, but the results from the day were great.
235 people visited the landing page.
121 of them decided to subscribe to my email list!
That's over 50% response rate! Way better than my 1%-3% conversion rate of my pop-up forms.
In My Mind
I think my page layout could have been better. There are graphic designs that I wished looked different and better.
I broke the rules, and left my email pop-up active on the landing page. Maybe, it helped people double think about their choice of dismissing my email offer? I don't know, but, I do know that probably isn't recommended.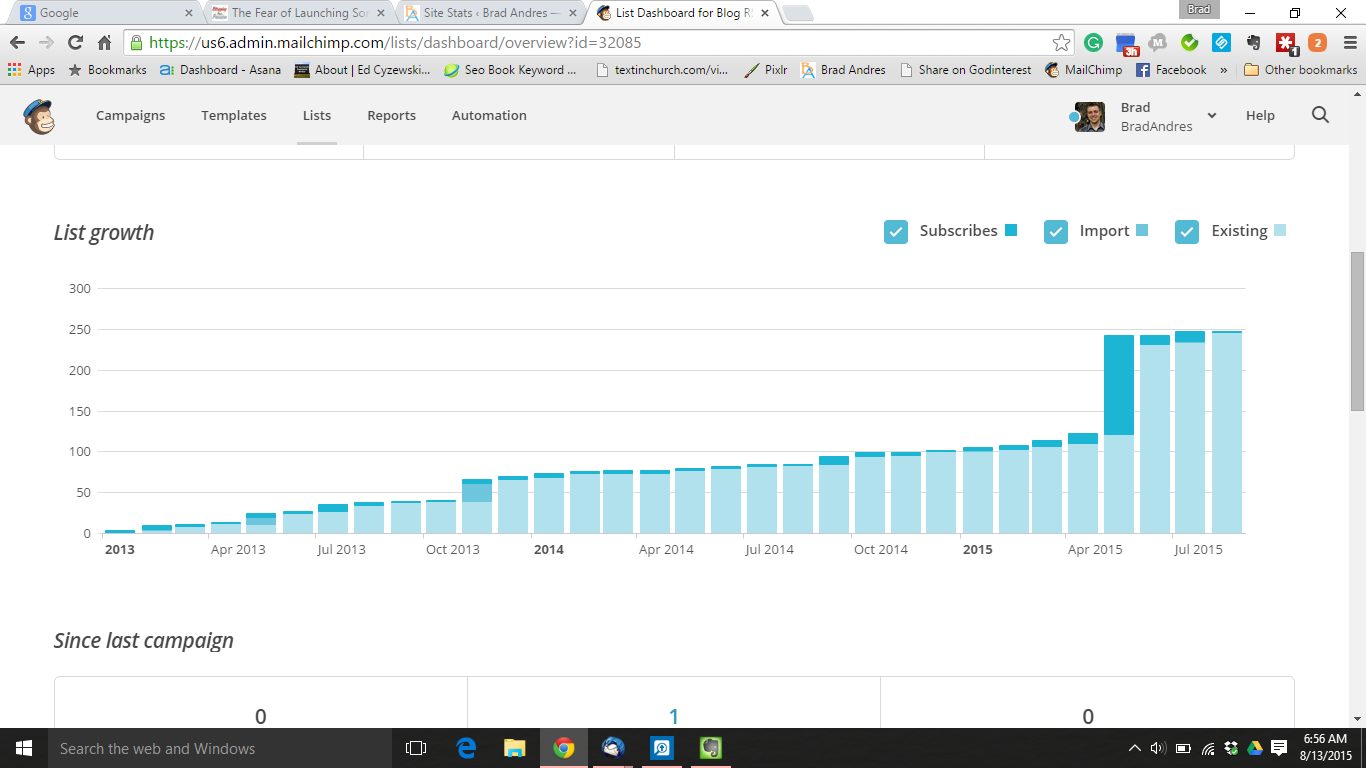 Your Turn
Be encouraged! Keep at it! Even if you only have 30 people a day reading your work, keep learning here from BYP, keep growing yourself, and keep developing your writing.
Most of all, keep taking action!
Take a chance! Get a landing page built that you can start to send people to when you guest post, and get your offer ready.
*By the way, if you're interested in discovering how the Bible can actually be fun to read, you'll want to sign up for my email subscription list here. You'll get a free copy of The Scripture Reader's Manifesto, and I promise, you'll get to know God a little bit more! In this short e-book, you'll discover how to fall in love, or fall back in love, with reading the Bible.