Guest Posting: The 10 Amazing Benefits of Writing for Others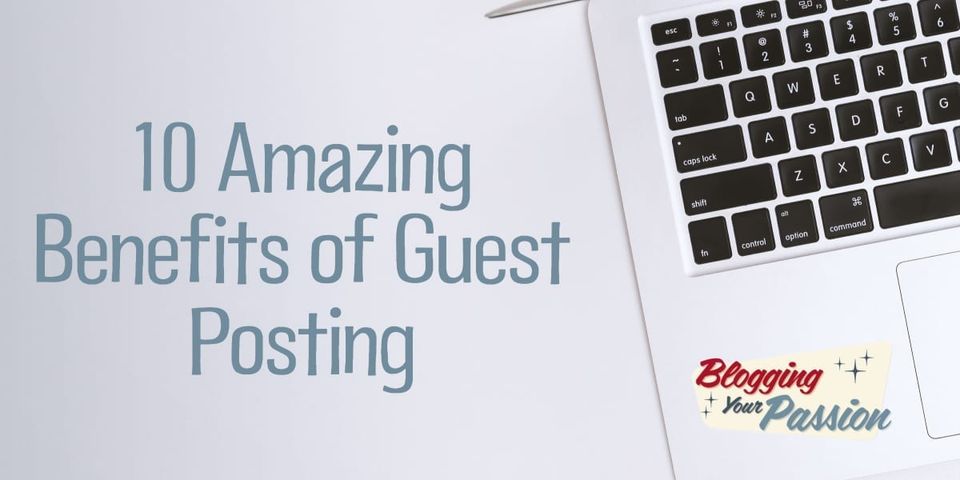 One of the most often asked questions we receive is "What is the fastest way to get traffic to my blog?" Guest posting is usually are first reply.
Most new bloggers start off my posting a link to their new blog post on Facebook. It's certainly not a bad idea at all, but still, most want more traffic to their site than just friends and family.
One of the absolute best sources of traffic for me is search engine traffic. However, do not count on search engine traffic for at least a few months (assuming you understand basic SEO).
If you want to see an immediate boost in traffic, guest posting is one of the most effective methods. It is not the easiest by far. You will have to write unique, relevant articles to publish on other sites.
You may have to exchange a few emails with other bloggers and possibly face rejection from time to time. Still, the effort is worth it. Below are 10 amazing benefits of guest posting. I listed them from both the writer's point of view and the publisher.
10 Amazing Benefits of Guest Posting
For the Writer
1. Build more authority for search engine traffic – While the SEO landscape has changed over the last year, links to your site from other relevant blogs do still benefit your site. It is wise for you to obtain a wide footprint of links from many of the other blogs in your niche. It proves to Google that your site is legitimate and authoritative.
2. Gain direct traffic to your blog – Another amazing benefit of guest posting is the beauty of gaining new traffic to your site. Many people will click on your link to go visit your blog. Be sure that you have engaging, high-quality content on your blog so they will want to come back and visit again soon.
3. Obtain a larger footprint on social networking sites – Many other bloggers are active on Facebook, Twitter, Linkedin and other social networking sites. The article you write for them can reach an even wider audience than the article itself. This is great name recognition and personal branding for you as an authority in your niche.
4. Develop key relationships with other bloggers – This is a benefit that many bloggers never think about. Too many bloggers starting out see other bloggers in their niche as mortal enemies. Experienced bloggers have an entirely different perspective. They understand the power of networking. If you are a regular follower of this blog, then you know that I originally met Bob through guest posting. Today, we have a thriving online business partnership in place. It all started with guest posting.
5. Build your mailing list or RSS subscribers – Guest posting can also do wonders when it comes to "capturing traffic" on your blog. You can capture traffic by getting more visitors to opt-in to your mailing list or by subscribing to your RSS feed.
For the Publisher
6. Display social proof on your blog – Social proof is so important in building some credibility to your blog. Social proof helps new visitors see that there is a community forming on your site. Social proof can be witnessed through blog comments, Facebook likes, tweets, etc.
Another powerful way to show social proof is for you to allow other people to write content for your blog. Again, do not be concerned about guest posters "stealing your traffic." Get rid of a limited mindset. Provide value to your readers by allowing other bloggers to contribute to your message.
7. Allow your readers to hear a different voice – It is also a good practice to allow different perspectives to be heard. It creates an "iron sharpening iron" community. Encourage it and allow it to take place on your blog.
8. Build more authority in your niche – One of your main goals should be to cover every possible topic in your niche. You should want to become the authority. A place where people go to find answers to the questions that they have. Guest posting allows you to do this.
9. Gain unique, relevant content for your blog – What blogger doesn't want more content for their blog? Sure you want quality content. Sure you want it to be relevant to your audience. Those things are important. However, sometimes we need a break from writing. Publishing a guest post frees up some more of your time.
10. Increase your income from the additional traffic – As a publisher, you can also benefit financially from allowing others to write for your blog. You can earn additional Adsense income, affiliate income, or even sell more of your own products.