How to Use a Domain Name Generator for Blog Name Ideas
In a recent blog post, we talked about the importance of branding your blog and selecting the right domain names. This is why selecting a domain name is so important. It is important to know how to use a domain name generator. This can prove to be a challenge today considering the fact that many …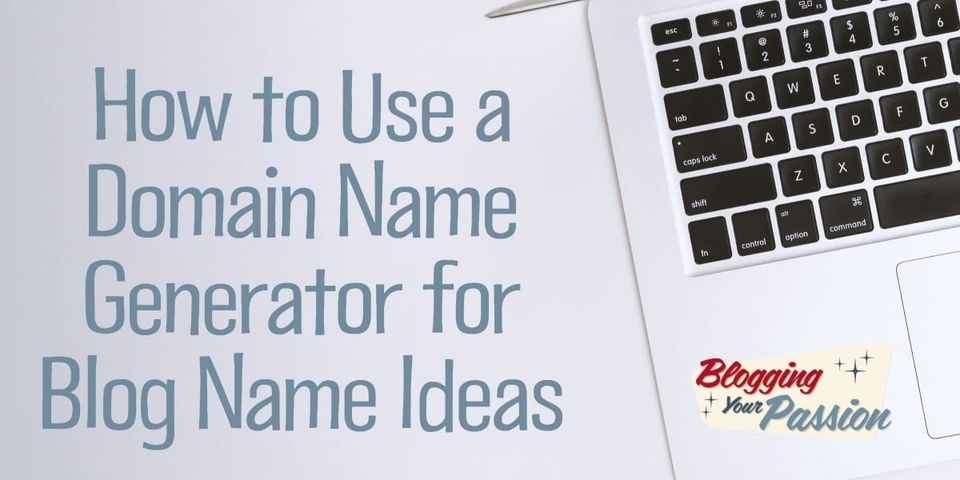 In a recent blog post, we talked about the importance of branding your blog and selecting the right domain names. This is why selecting a domain name is so important. It is important to know how to use a domain name generator.
This can prove to be a challenge today considering the fact that many great blog names have already been taken. That being said, there are still may great branding names for your blog if you know what to do. So, what is the best way to find a great blog name and check out domain name availability?
Domain Name Generator
What exactly is a domain name generator? Well, let's face it. It can be a real challenge at times trying to come up with branding ideas in our own head. A domain generator can be a great way to get your creative juices flowing.
You could even use it as a blog name generator as well. It will help you come up with some cool ideas for blog names. One of my favorite sites that do this for free is DomainsBot.com. Basically, once you reach the home page you will need to supply some basic keyword phrases related to what your blog is about. For the purposes of our example. let's say we are going to begin a personal finance blog.
In the search field, you would enter "personal finance" and see what results you receive. Not only will you receive several branding ideas, but you will also see if the domain name is available for purchase.
This can save you a lot of time with trying to check the availability separately. Just by trying this search, I found several great branding names for someone in the personal finance niche. Some examples available include:
PersonalFinanceCoach.org
ExtremePersonalFinance.org
PersonalFinanceVideos.net
PersonalFinanceSolutions.org
Easily Change the Search Parameters
Another great feature of this domain name generator is that you can easily change the search parameters if you are not liking the results that you are getting. You can select and de-select the recommended synonyms that they have listed in the sidebar to the right.
There is also a checkbox for around 10 or 11 different domain extensions. This is a great feature if you only want to show .com, .org, and .net.
You can also decide if you want to view both domain names that are for sale or even domain names that are expiring. Purchasing an expired, aged domain can give you some nice SEO benefits.
We will explain more in another blog post. Lastly, you can decide whether or not you would like the name generator to display available domain names that have a hyphen in them, actual numbers, or even related words.
Do you want to have a branding blog? In other words, a recognizable brand that is easily remembered. Then you need to really think through what the right domain should be. Using the above tips, you can come up with some creative blog name ideas.
Which Domain Name Extension is Best?
I have bought and sold between 20-30 blogs over the last two years and here is what I have learned from my experience. When it comes to getting your blog to rank in the search engines, you ought to keep these tips in mind.
Always start with trying to get .com if at all possible. It by far is the best choice. However, before you try to put a hyphen or a number in your domain name, see if you can find it in .org or .net and in that order. There have been some instances where my keyword phrase ending in .org ranked well right from the beginning.
Use the tool mentioned above for some great domain name suggestions. Regardless, of what you choose do not let this be a stumbling block to you. Sometimes, you just need to select the best option and get started on building content on your blog. However, a blog names generator can help a great deal.