The Astonishing Power of Creating Checklists in Your Online Business
I love checklists. If there is a repeatable process in my online business, then I want to document it, refine it, and use it. When it comes to creating my checklists, I use Sweet Process. It is a great tool for capturing all the repeatable tasks you are performing as a blogger. I love documenting …
I love checklists. If there is a repeatable process in my online business, then I want to document it, refine it, and use it.
When it comes to creating my checklists, I use Sweet Process. It is a great tool for capturing all the repeatable tasks you are performing as a blogger. I love documenting processes in my business because:
It is a great reminder for me on how I've done things in the past.
I have a best practices template to follow since I improve them along the way.
It offers me the opportunity to delegate tasks to a virtual assistant.
In some ways, our Blogging Your Passion University is a collection of best practices in the form of checklists for bloggers. You won't find much theory in our course, what you will find are blog training videos that push you to action.
Over a year ago when setting up my wife's blog, I even watched my own videos from BYPU so I could remember the right ways to:
Create a Facebook Fan page
Make the necessary changes in the WordPress settings
Create a Twitter profile
It is difficult to remember everything all the time. This is why checklists can be such a great tool for your blogging journey.
What are some of my checklists?
Let me share with you some of the checklists I have in my SweetProcess account. I have checklists for:
How to promote new blog posts on social media
How to promote an upcoming webinar
How to do the post production of a podcast
How to add a new podcast to iTunes
How to prepare for a Skype video interview
How to manage my Google+ Community group
How to schedule tweets of my most-popular blog posts
These are just a few of the checklists I am using in my online business. I would encourage you to begin creating checklists of all the things you are doing with your blog.
Step #1: Begin collecting your work in real time
I like to use Evernote to do this. On the Mac it is super simple to do. As I am going about my day, I simply record what I am working on at the moment. All I do is click the Evernote symbol in my top bar and my latest working note shows up. I add a brief description of whatever I am doing at the moment (see pic).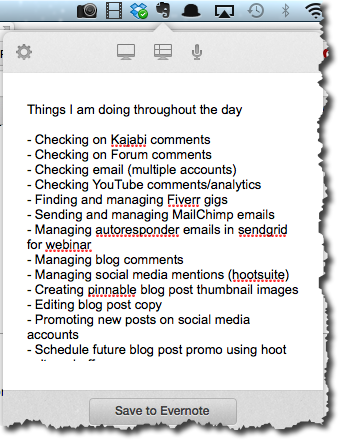 Step #2: Document your current step by step process
This is the part that most people avoid. You will feel like you are adding more work to your already busy schedule. My promise to you is that it's worth it. Before you ever consider hiring an assistant, you need to document your work.
I like to use the SnagIt tool to grab quick screenshots of what I am doing. I then go into SweetProcess and create a new checklist. Sometimes when I am in a hurry, I just get the screenshots loaded in the right order with the goal of filling in details later.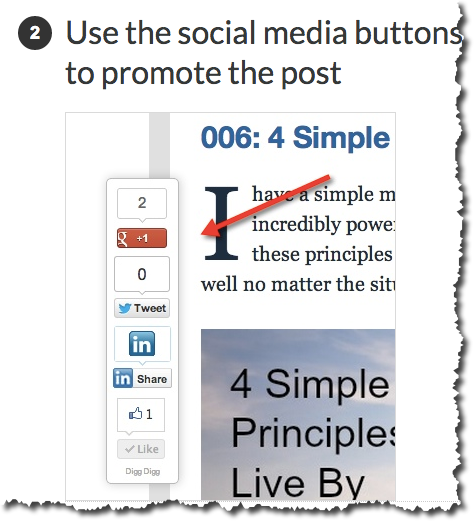 Step #3: Use your checklists and improve your processes
Once you have created a handful of checklists, you can then begin to use them in your regular workflow. Having checklists recorded will help you in several ways:
Which checklists you need to have someone else do
Which checklists you need to give some attention to and improve
Which checklists you need to be reminded to do more often
If you would like to see an example of one of my checklists I have created with SweetProcess, then click here: How to do Post Production of a Podcast in iTunes.
I hope you can see the incredible power in documenting your work. Give it a try yourself. Either use SweetProcess or just get an Evernote notebook started.
Question: Do you have any procedures documented for your blog?