How to Properly Copy from Word to WordPress
One of the struggles I had early on as a blogger had to do with learning how to correctly copy from Word to Wordpress. It sounds like such a simple thing, but I was doing it all wrong. For months, I was typing my blog posts in either Google Docs or Microsoft Word. Then, I would … How to Properly Co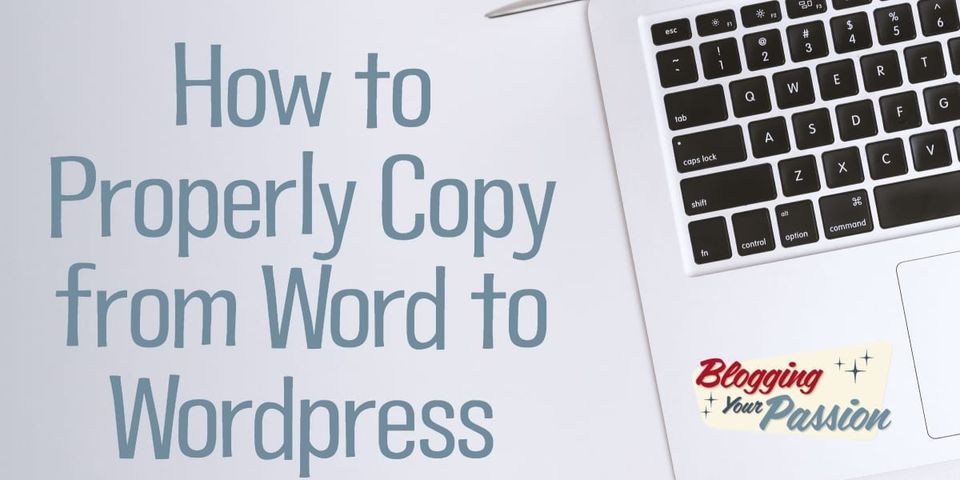 One of the struggles I had early on as a blogger had to do with learning how to correctly copy from Word to Wordpress. It sounds like such a simple thing, but I was doing it all wrong.
For months, I was typing my blog posts in either Google Docs or Microsoft Word. Then, I would just highlight, copy, and paste directly into WordPress.
It wasn't until someone pointed it out to me that I had a formatting problem. Sometimes the font was a different size than the blog post before it and so on.
[callout] BONUS: Want to launch your own blog? Take our Free 7-Day Launch Your Blog Challenge! After 7 days, you'll have a fully optimized, ready-to-go, traffic generating blog! Click here to start the challenge today![/callout]
What I finally realized is that Microsoft Word was carrying over code that I was not seeing. Then one day I switched the tab over to the HTML view, and I saw all of the extra code I was carrying over from Microsoft Word.
My Simple Solution
The latest version of WordPress now comes with special "paste" buttons for transferring content from a text editor and Microsoft Word (see video below). However, I have another habit that seems to work for me. I always paste my content into the HTML or text tab inside WordPress. This will strip out any code and keep it simple for me.
Now, some of you might be saying, "Why not just write your blog post directly inside of WordPress?" I do that from time to time, but I have also been burned a few times.
I like typing my content into a document that saves it while I type. For some unknown reason, we lost electricity for a brief moment twice in the past week.
Had I been typing in WordPress, I would have probably lost a good portion of my article. I am currently using Yarny.me. It is designed for authors who are writing books, but I am also using it to write my blog posts.
UPDATE: I know currently write my blog post drafts into Evernote, but the same method applies. Evernote is one the top blogging tools that I use daily.
If you cannot see the video above, watch How to Properly Copy and Paste Your Content into WordPress directly on YouTube.
[callout] BONUS: Want to launch your own blog? Take our Free 7-Day Launch Your Blog Challenge! After 7 days, you'll have a fully optimized, ready-to-go, traffic generating blog! Click here to start the challenge today![/callout]