Blogging Habits: 5 Daily Habits to 10x Your Blog Productivity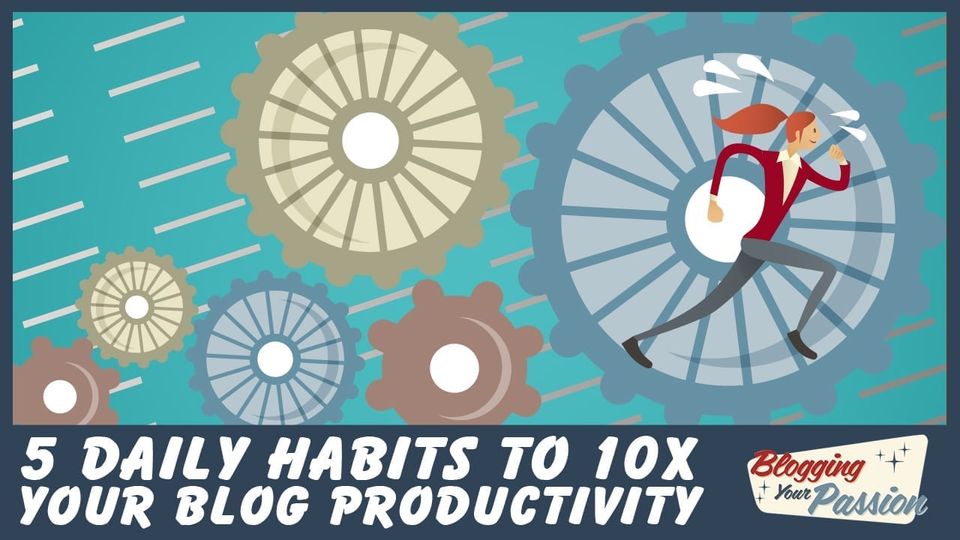 Developing core blogging habits are the foundation to your success as a blogger. Yet, two factors stop most aspiring bloggers from writing more content, publishing more posts and producing more results.
These two key factors will determine your success or failure.
They often elude us like a two-year-old let loose in the clothing section of a department store (he's in there somewhere).
Once you find these two qualities, you should do whatever you can to keep them.
What are they?
Clarity and focus.
Clarity tells us what to do next, while focus helps us get it done.

To help you have more clarity and focus, I recommend adopting five daily habits. Try these five daily habits for a week and you'll 10x your productivity.
Habit #1: Your Morning Success Ritual
How you start your day will determine how the rest of your day will go. If you lazily roll out of bed after hitting the snooze button a few times, the rest of your day will carry that same theme.
How different would your morning feel if you woke up energized and ready to attack your day? That's what a good morning ritual can do for you.
Many experts across various industries talk about the value of a morning success ritual. The important thing to remember is quality of time is better than the quantity of time. It may not make sense to have a 90-minute morning ritual given your current season of life. Start with what you have available to you.
To get started, follow these guidelines:
Brainstorm all the possible activities you could do during your morning success ritual
Place an approximate length of time each activity would take
Select the activities that mean the most to you given your time available
Write down your new morning success ritual in the order you want to follow
Once you begin, don't be afraid to tweak your schedule as necessary. Keep adjusting until you have a morning ritual that works for you.
Here's my personal schedule:
Drink a bottle of water
Cardio exercise (30 minutes)
Strength training (20 minutes)
Stretching (10 minutes)
Bible reading/prayer (10 minutes)
Journaling (10 minutes)
Review book notes (10 minutes)
The schedule above sets me up for a successful day. I've given time to the important areas of my wellbeing (physical, mental, and spiritual). Find a simple morning ritual and get started tomorrow!
Habit #2: Your Workday Startup Ritual
I first heard of the concept of a workday startup ritual from Michael Hyatt. It makes perfect sense when you think about it. How many of us casually fall into our workday only to wonder a few hours later what we've accomplished? A workday startup ritual will give you the jump-start you need.
Possible workday startup activities could be:
Check your email (put a time limit on this)
Review your major goals/projects
Check your voicemail
Check the Slack App (a tool used by virtual teams)
Scan your project management tool for updates (we use Asana)
Determine your top three most important tasks for the day
The point of this daily workday ritual is to clear the path so you can spend the rest of your morning with complete clarity and focus.
Tip: Try to spend less than thirty minutes with this ritual so your mornings don't get away from you.
Habit #3: Your 3 Big Daily Wins
I first heard this concept several years ago from a fellow blogger named Leo Boabota. He would often refer to it as his 3 MIT's (most important tasks).
Many of us have long never-ending to-do lists. When our lists are long, two things happen:
We can become paralyzed and de-motivated to do our work
We only work on urgent tasks which are not always the most important tasks.
To set up a game you can win, you must practice the art of selecting your daily big three tasks. Every morning I ask myself a simple question: "What would make today great?" The top three things that come to mind become my daily big three tasks.
For example, I use ConvertKit as my email marketing software. If I wanted to reach out to my audience, then I would add "send a marketing email" to my Daily Big 3.
This does not mean I only accomplish three tasks a day. In fact, I strive to accomplish my big three tasks before lunch. Once you begin to implement this practice, you'll discover that you get more done than you did before.
Habit #4: Maker Mornings, Manager Afternoons
If you desire to work for yourself, an essential habit to develop is managing the tension between being a boss and being a worker in your business. You must learn to wear both hats in order to be successful.
There are times you need to work "on" your business and there are times you need to work "in" your business. One of the most helpful practices I have adopted is called: "Maker Mornings, Manager Afternoons."
This strategy comes from an article published in the Harvard Business Review. The concept is simple. Use your mornings to work in your business, and your afternoons to work on your business.
I rarely allow for morning appointments. I like to leave my mornings open to do creative work. I've even adopted a motto called: "Do creative work first."
Following this simple plan has allowed me to carve out focus sessions in the morning to get work done while leaving me more available to work on my business in the afternoons.
Habit #5: Celebrate Your 3 Big Wins from the Day
Celebrating your wins is hard for most high-achievers. We often get so focused on the next mountain to climb that we fail to stop and enjoy the view around us.
Goals are great to have but be aware of the gap they create. They create a gap between where we are and where we want to be. This can leave you in a constant state of discontent unless you adopt a simple daily practice.
I learned this practice from Dan Sullivan of Strategic Coach. Every evening before you go to bed, share your three biggest wins from the day with someone else. I do this practice every evening with my wife and it helps us stay on the same page.
This simple practice also leaves you in a state of gratitude before you go to bed. It's a powerful reminder of the joy each day can bring.
Habits can be a powerful force for good in your life when used the correct way. Do you have a set of daily habits that help to propel you toward your dreams and goals?
🚀
Free Video:
How to Build an Online Business as a Writer or Coach (The Low-Tech Way) That Creates Time and Financial Freedom
(Without Feeling Overwhelmed by Technology, Self-Doubt, or Too Many Choices)
Click Here to Watch Now