How to Become a Full-Time Blogger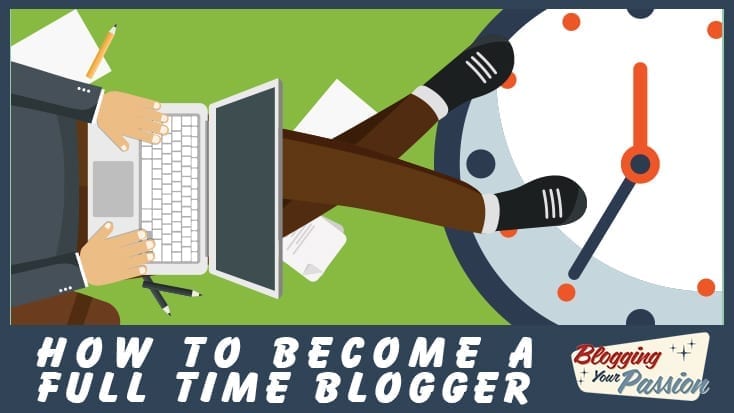 The strategy of finding your first 1,000 true fans came from a 2008 blog post written by Kevin Kelly.  The overarching idea is that if you can find 1,000 true fans who will spend just $100 per year with you, then you would have a six-figure business.
The formula works like this:
1,000 true fans X $100 each = $100,000 yearly income for you.
But if the formula is really that simple, then it begs the question:
Why are more people not making a living online?
That's a question I desperately wanted to answer. Earlier this year, I spent over 1000+ minutes talking 1-on-1 with aspiring bloggers, writers and coaches.
Specifically, I asked them:
What's slowing you down?
What's getting in your way and stopping you?
Everyone does something to sabotage their success, what do you do?
What I discovered surprised me…
It wasn't a lack of passion, desire, hard work or even lack of time that was slowing them down.
The biggest challenge they faced was falling prey to what I now call the "Influence Busters."
The 4 Influence Busters
Specifically, there are four influence busters keeping you from obtaining your 1,000 true fans.
Influence Buster #1: Competition
Let's first talk about competition. Did you know that 17 posts are published every second on WordPress sites around the world? Crazy, right?
If you have any hopes of blogging full-time, you must discover a way to rise above the noise.
Now, not all competition is bad. In fact, discovering that someone else makes a full-time living online in your niche is a good thing, not a bad thing. They have gone before you and proven the concept can work. Still, for every successful blog in your niche, there are potentially thousands of struggling ones.
Influence Buster #2: Overwhelm
Another outward influence buster is overwhelm, specifically with technology. We all have a love/hate relationship with technology.
Our voices are often silenced by the technology black hole.
It frustrates me to see people who have a story to tell or a passion to share, but let technology keep them from getting their voice out there.
Recently, Greg shared this comment in one of our private Facebook Groups:
"Technology has been eating away at my passion like a cancer."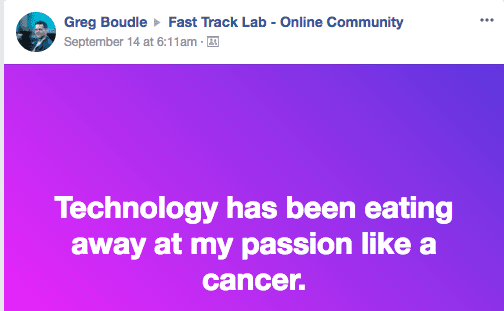 Can you relate to how Greg was feeling?
Influence Buster #3: Doubt
The fear of not being good enough is what stops most bloggers from ever launching. Those who struggle the most often think:
Do I have anything of value to add?
Can I measure up to others in my space who seem to be rocking it?
Will I face lots of negative feedback to what I publish?
Will I be exposed for not being an expert?
Have you ever had any of these thoughts? They can be paralyzing for sure.
Remember the 100 blogger conversations I had?
I came across these feelings of doubt time and time again.
One leadership blogger had over 30+ draft blog posts written on his computer (but zero published)
One author had two completed book manuscripts finished but they had been sitting on her hard drive for months
One podcaster had recorded over 15+ podcast episodes months ago, but had not yet launched
If doubt has been holding you back, I want you to know you are not alone. The fear of not being good enough rings in the ears for most of us.
Influence Buster #4: Perspective
Do you value the long-term over the short-term? It's easy to get swept away by fast success. But nothing of significance is ever done quickly.
Whether it is related to health, finances, relationships, habits, or growing a business, there's one simple formula that works:
You must learn to value the long-term over the short-term.
Andy Stanley said it best when he said:
"Make little deposits of time, over time, in the areas that matter most."
In other words, value the long-term over the short-term.
What stops us from attracting our first 1,000 true fans comes down to four influence busters:
#1: Competition – There's a lot of noise out there
#2: Overwhelm – Our voices are silenced by the technology back hole
#3: Doubt – The fear of not being good enough
#4: Perspective – We value the short-term over the long-term
How to Become a Full-Time Blogger (Your Blueprint to 1,000 True Fans)
If you want to become a full-time blogger, then you need to follow this four-step blueprint.
The Four Influence Igniters
In order to overcome the "influence busters" we need a solution for each. The faster we can overcome competition, overwhelm, doubt, and the wrong perspective, the sooner we will reach our 1,000 true fans.
Step 1. Launch
Step 2. Grow
Step 3. Profit
Step 4. Scale
Let's take a closer look at each of these steps.
Influence Igniter #1: Launch
In order to overcome the competition, we need to launch a targeted blog. Most bloggers try to be "all things to all people," and they end up influencing none. Don't let that be you.
My first blog was called "CPA Career Coach." I was a career coach for accounting and finance professionals. I think what really contributed to the growth of that blog was the "influence magnet" it created with accounting and finance professionals.
Either serve specific people or a specific problem.
I teach something called the GPS Audience System. GPS stands for "goals, passions, and struggles." The best way to stand out from the competition is to start addressing the specific goals, passions and struggles of a specific group of people.
Influence Igniter #2: Grow
Once we understand who we are serving and how we will influence them (The GPS system), we need to overcome overwhelm by growing an email list to 1,000 subscribers.
Many aspiring influencers feel overwhelmed simply because there are TOO MANY audience-building systems, tools, apps, and programs. They mistakenly think that they need to be everywhere and do everything in order to be effective.
That's the wrong approach.
Instead, you should ask the question: "What's the fastest, most effective way(s) to grow my influence to my first 1,000 targeted email subscribers?"
Stop doing everything that doesn't lead to a new email subscriber.
Influence Igniter #3: Profit
Once we capture our first 1,000 email subscribers, it's time to serve these people for a profit. The fastest way to overcome doubt is to earn a profit solving a problem.
Launching an online course or coaching program requires courage. But with this courage comes confidence. As confidence increases, doubt decreases.
I still remember what it was like launching my first online course back in 2010. I was nervous, scared, and excited all at the same time. My list was small, but my hope was big!
I opened the doors to my course on Friday and by Sunday, I had 15 paying customers at $97 each. I couldn't quit my day job over $1455 profit, but what I thought was impossible was now possible.
Survey your subscribers and offer a paid solution to their biggest struggle.
We teach five different income systems that you can pick from to earn your first $1,000 online.
Influence Igniter #4: Scale
The final step in finding your 1,000 true fans is to scale what's working into full-time income. We overcome the wrong perspective by adopting the "brick-by-brick philosophy."
We do this by valuing the long-term over the short-term.
When I finally learned this principle about a year into my blogging journey, I remember telling myself: "If it takes five years to build my blog into full-time income so I can enjoy it for the next 10, 20 or 30 years, it will be totally worth the wait."
This long-term perspective allowed me to fall in love with the work. The reason most of us are impatient is because we have fallen in love with the "idea" of working full-time as an influencer, but not with the "work" it takes to make it happen.
Final Question
When you look at your typical week, are you more consumed with the influence busters or influence igniters?
🚀
Free Video:
How to Build an Online Business as a Writer or Coach (The Low-Tech Way) That Creates Time and Financial Freedom
(Without Feeling Overwhelmed by Technology, Self-Doubt, or Too Many Choices)
Click Here to Watch Now