Audience Surveys: 5 Unique Ways to Better Connect with Your Audience
Would you agree that knowing the goals, passions, and struggles of your audience would grow your blog quickly? If so, you'd be right. But how do you get in the mind of your audience? The answer is through audience surveys. The best way to intimately understand your audience is through surveys. I wan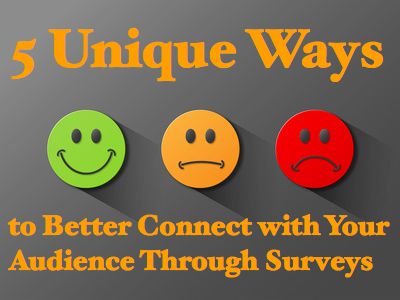 Would you agree that knowing the goals, passions, and struggles of your audience would grow your blog quickly? If so, you'd be right. But how do you get in the mind of your audience? The answer is through audience surveys.
The best way to intimately understand your audience is through surveys. I want to share with you 5 unique ways you can better understand your audience using simple surveys.
5 Unique Ways to Better Connect with Your Audience Through Surveys
1. The Annual Reader Survey
A great strategy to employ in an effort to stay in touch with your audience is the annual reader survey. This is the most lengthy of all the surveys listed here.
The goal is for you to get a thorough understanding of both the demographics and psychographics of your audience.
The demographics help you to understand the average age of your audience, life stage, income level, education level, and so on.
The psychographics assist you in getting into the mind of your audience. What are their goals, passions, and struggles? What fears do they have and what keeps them awake at night?
One of the best examples of a blogger who does the annual reader survey well is Michael Hyatt. I've used his template in the past to survey my own audiences with success.
2. The Occasional Deep Dive Survey
Whether you decide to go for the annual reader survey or not, I'd strongly encourage you to at the very least start with a deep dive survey. This is a survey strategy designed by Ryan Levesque. He goes into more detail in his book, Ask: The Counterintuitive Online Formula to Discover Exactly What Your Customers Want to Buy.
The goal of the deep dive survey is to only ask 3-6 questions that give you the highest participation with the most important information you want.
For example, one of the most important questions you can ask your audience is: "What's the single biggest challenge you have with [insert topic]?"
The goal then is for you to group all your answers into 3-5 customer segment buckets. Now, you have a strategy for creating products and services driven by direct feedback from your audience and not something you just assumed.
3. The Segment Your Traffic Survey
After the deep dive survey, Ryan uses a survey strategy he calls the micro-commitment survey. I call it the segment your traffic survey.
What if you were able to engage your website visitors into a quick survey that places them into the topic they are most interested in? Would it be easy to get them to open emails and possibly purchase products and services from you? Of course it would.
4. The Product Launch Survey
I've deployed this survey strategy before every online course I've ever created. I usually like to ask 5-7 questions only. I use the feedback to better understand what to include in the course. Also, it makes for great copy for your sales pages.
For example, before launching Kindle Your Passion, I asked my audience: "Have you every thought about publishing a Kindle book?" When 87% of them said "yes" I knew this was a high demand product.
5. The Pivot Survey
Ryan Levesque also uses this survey strategy in his business as well. I love this idea and plan to use it in my business. Essentially, this survey is an email that goes out to non-buyers of your product and simply asks them: "What would you like to learn about next?"
Depending on what they select you can have an auto responder email sequence triggered to deliver them future content about that topic. While it may take time to set this up, it's a great automated strategy to work toward.