An Ideal Portable Whiteboard System for Bloggers
I love to share creative ideas that can make you more productive as a blogger. I was recently introduced to the guys at the Idea Fuel Store. They are great at developing creative products that help others become more productive. Why I Love to Use a Whiteboard Maybe it is because I am a visual … An
I love to share creative ideas that can make you more productive as a blogger. I was recently introduced to the guys at the Idea Fuel Store. They are great at developing creative products that help others become more productive.
Why I Love to Use a Whiteboard
Maybe it is because I am a visual learner, but I absolutely love whiteboards. I have written a few post in the past about how I am using whiteboards to make me a more productive blogger. Here are a few reasons why I love to use whiteboards.
They are the ultimate capturing tool – The older I get, the more I value capturing every idea. I do use Evernote as a way to capture a running list of my ideas. At the same time, if I am especially captured by a certain idea, I use a nearby whiteboard to run with it and "think out loud."
They keep me on track with my goals – I have mentioned on this blog before how especially helpful it has been for me to have my blogging goals as a visual reference. They stare at me daily and serve as a boss for me. When I sit down to work, my goals are in my line of sight and hanging on the wall. I cannot stress enough the value in having written, visual goals. I also have a whiteboard dedicated to my editorial calendar. It allows me to have a 30 day glance of where I am going with my blog.
They turn ideas into reality – I also love "running with an idea" on a whiteboard. To see an idea come to life is truly an exciting thing. A whiteboard allows me space to play with an idea and think it through.
They can help a team gain momentum – I have also seen first hand how whiteboards assist in creating progress with teams. I have been a part of brainstorming sessions both with and without whiteboards and I can tell you that having them is much better.
Introducing the Artist's Idea Board from IdeaFuel
As mentioned earlier, the guys at IdeaFuel have just created a portable whiteboard system that is ideal for artists, supervisors, creatives and bloggers. I was fortunate enough to get my hands on one of these early on. I have been using it for the past two weeks and I am really enjoying it.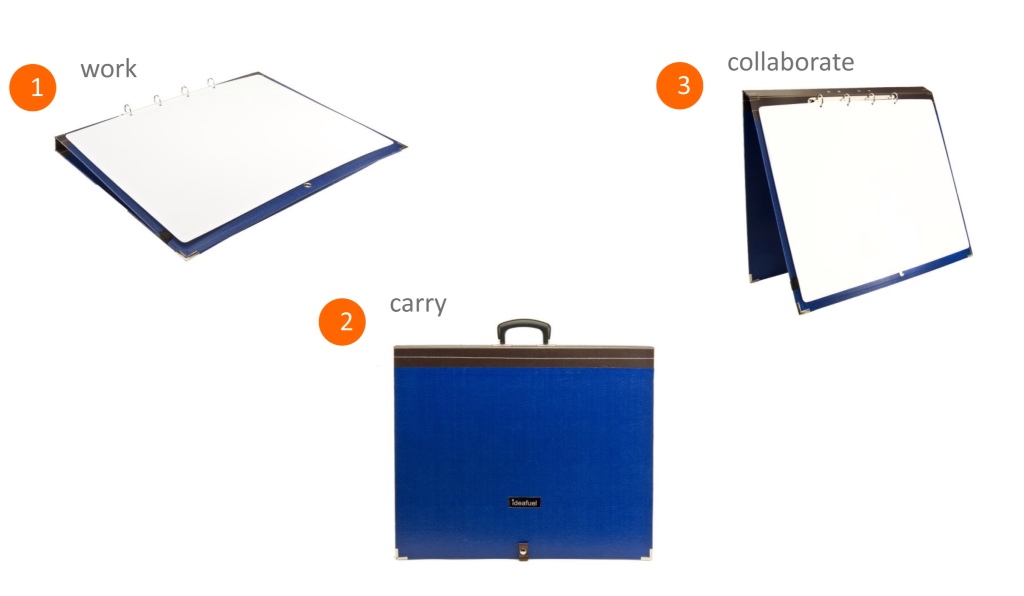 The one downside to whiteboards is the fact that you are tied down to a certain location. If you like to work at different locations or even travel quite a bit, using whiteboards can be a challenge. This portable whiteboard system come with 3 whiteboard sheets in a nice large, professional binder. Each whiteboard sheet is protected by a clear plastic sheet that lays on top. This keeps you from losing your work. You can use the whiteboard on your lap or stand it up to use as a team collaboration tool.
What is on my portable whiteboard system right now?
The reason I am excited about this product is because I am going to be out of town 3 different times this summer. Having this portable whiteboard system with me is going to keep me on track. Here is what is on my portable whiteboard right now.
The outline for my new Kindle book – I am currently in the process of writing my second Kindle book. I used this whiteboard to think through the big sections of the book, which led to breaking the ideas into chapter.
A portable 30 day editorial calendar – I have also used one whiteboard sheet for my editorial blogging calendar. I suppose that I could also use Google Calendar, but I like having a large visual reference.
Multiple streams of blogging income brainstorm – I began brainstorming the idea of creating various "income buckets" as it relates to blogging. I then began to think through the specifics of what it would take to achieve $1000 monthly income for each area. It was a healthy exercise for me.
I thought it might be helpful to create a short video showing you exactly how I use this portable whiteboard system. Hopefully, it puts all of the pieces together for you.
How can you get one of these?
This product is just now being launched to the general public. In fact, they just began a KickStarter Campaign in an effort to get this idea off the ground. You can get your own portable whiteboard system by participating in their campaign. You can find out more info here: Portable Whiteboard System by IdeaFuel