A 90 Day Review Checklist for Professional Bloggers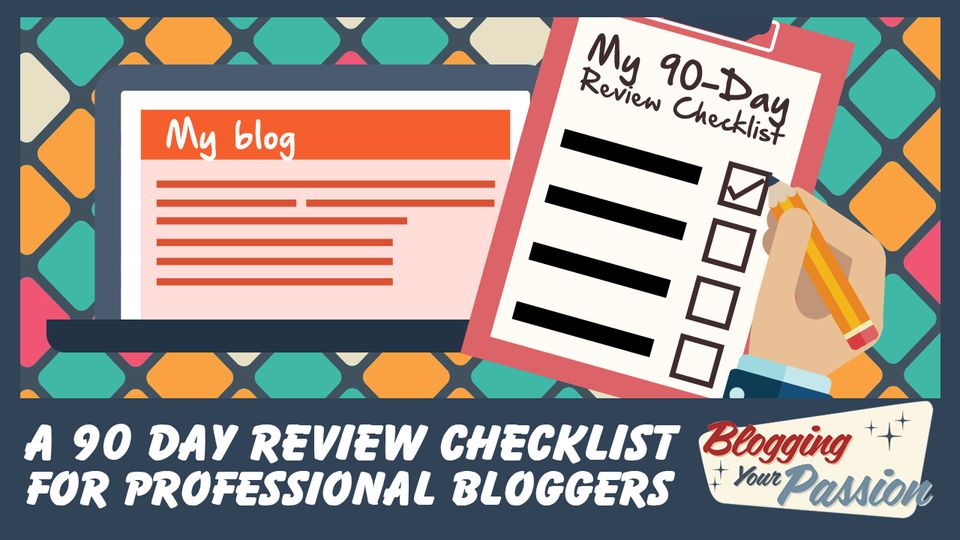 Are you tired of feeling behind all the time? Maybe you often feel like there's just not enough time in the day to get it all done. Let's fix that today with a 90-day review checklist!
A few years ago my friend and mentor, Dennis McIntee, shared a profound truth with me:
Your #1 enemy is broken focus.
Get your focus back, and you'll get your groove back.
Every 90 days, I spend some time alone to evaluate my business, vision, and goals. This helps me to avoid the drift. It's easy to get caught up in other people's agendas, emergencies, and plans. Before you know it, you're way off course.
My 90-day review, allows me to look up from the busy work and make sure I'm headed in the right direction.
Without this intentional time to review where I am and how I'm doing, I would be lost.
I like to schedule time away to do my 90-day review, but you can do this at home. I would recommend changing your environment if all possible as it can help to change your perspective.
If you want to start doing your own review, here's a simple checklist I use:
1. How am I doing in the areas that matter most? (Review life plan)
Are you living an intentional life? Or are you allowing life to happen to you? While some people never ask this question, others only ask it once a year. If you want to design and live a life worth living, you need to ask this question often.
A few years ago, I created a life plan. Over the years, I have simplified and refined my plan. This question helps me to evaluate how I'm doing in the 4 most important roles in my life.
2. What's the best business and personal news in the past 90 days (Review last 90 days)
Most entrepreneurs get excited about new things (I know I do). New possibilities, opportunities, and challenges fuel your drive. At the same time, if you're like me, you have a major flaw.
Taking time to appreciate "wins" and "successes." Before I dive into the issues and challenges in my business and life, I take two specific actions.
First, I look at my calendar from the past 90 days to review work-related wins and accomplishments. Next, I will often look through Facebook posts for the past 90 days to review wins from my personal life.
Filling your mind with gratitude, wins, and accomplishments are vital to your success.
3. What's working and not working in my business?
I often will take out a sheet of paper or notepad and draw a line down the middle of the page. On the left side, I'll jot down all the things that are working well in my business. On the right side of the page, I'll jot down observations of areas of improvement in my business.
4. What are the numbers telling me? (Review my company scorecard)
When it comes to analyzing numbers in my business, I like to keep things simple. My encouragement to you is to identify 4 to 6 key numbers and track them weekly. I use a Google Drive Spreadsheet and each Friday I record the numbers most relevant to the outcomes of my business.
5. What are my vision and values? (Review my vision document)
Do you have a vision for your business? What you are ultimately trying to accomplish? The more specific you can be the more powerful your communication becomes. Here at Blogging Your Passion our mission is to help 1,000 bloggers go full-time in the next 5 years.
6. What issues do I still need to solve?
Next, I will take some time to record all the issues that need to be fixed in my business. It's easy to get sucked into wanting to solve them, but that's not the goal here. The purpose of this question is to record all the issues you are facing.
I learned this simple exercise from a book I highly recommend called Traction: Get a Grip on Your Business by Gino Hackman. Once you have the issues written down (without solving them) you can then make decisions on which of this issues can or should be resolved within the next 90 days.
7. What should my new 90-day goals be?
Once I've reviewed all of the wins, issues, and numbers, I'm able to think clearly on what my few initiatives for the next 90 days should be. I won't go into detail here on how I set 90-day goals, but you can read more about it here: How I Set 90-Day Goals.
8. What's my top 3 marketing strategies this quarter to grow my business?
As a blogger, podcaster, speaker, or writer, it's easy to get caught up in the "creative" projects we want to do. However, if we want to do our creative work full-time, then we need a plan to generate revenue. This question helps me to focus in on the few marketing efforts I want to push forward.
9. What should be on my promotional calendar for the next 90 days? (courses, launches, etc.)
I like to use a tool called CoSchedule to map out all of my promotional calendar activities. Whether my goal is to launch a new online course or highlight an existing course, I want to have a plan for where I am going and how I plan to generate revenue.
10. What should be on my editorial calendar for the next 90 days?
I also like to integrate my "free" content into the promotional projects I'm working on. Free content would be any blog posts, podcasts or videos I want to produce.
🚀
Free Video:
How to Build an Online Business as a Writer or Coach (The Low-Tech Way) That Creates Time and Financial Freedom
(Without Feeling Overwhelmed by Technology, Self-Doubt, or Too Many Choices)
Click Here to Watch Now