6 Lessons I Learned from My Most Successful Launch to Date
As many of you know, we are just wrapping up the recent launch of the new 2.0 version of Blogging Your Passion University. The university only opens up a few times a year. I know many of you are looking to do similar online product launches so I thought I'd pass along a few lessons … 6 Lessons I Le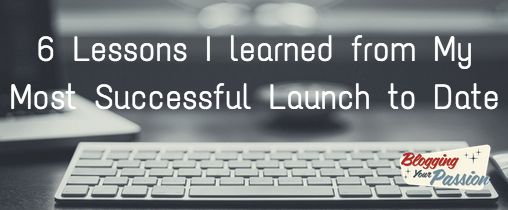 As many of you know, we are just wrapping up the recent launch of the new 2.0 version of Blogging Your Passion University. The university only opens up a few times a year.
I know many of you are looking to do similar online product launches so I thought I'd pass along a few lessons I learned. After every launch, I try to capture down the lessons I learned so I can remember them in the future.
There are always things that go wrong and things that go right in every launch. With 24 hours left to opening the doors, I had to switch my payment processor to Stripe. I was so glad I made the switch.
Here are at least six lessons I learned:
[feature_block style="icon" overall_style="icon" columns="1″ icon_style="icon"][feature title="Podcast%20Version" icon="255.png" upload_icon="" bg_color="" href=""]
Click here to listen to the podcast version of this content
[/feature] [/feature_block]
Lesson #1: WHY you do it is just as important (if not more important) as WHAT you are selling.
In my first video training, I spent the entire video sharing my L.I.F.E. acronym (I wrote more about this here). It's my BIG WHY behind being a full-time blogger and pursuing my passion. This message seemed to resonate with many people.
They reached out to me personally, sharing with me what motivates them to pursue their passion through an online business. If people connect with your WHY, they will naturally follow you to the WHAT and the HOW.
[Tweet "If people connect with your WHY, they will naturally follow you to the WHAT and the HOW."]
Lesson #2: People doubt themselves more than they doubt the product
You can have the best training product in the world and people won't buy. It isn't because the product is not good. The main reason people don't buy is they don't believe in themselves. They aren't sure they can do it.
On the last day, I made myself available on live chat to answer any questions people had about BYPU. I was flooded with live chat messages all the way to midnight. It never stopped.
To my surprise, it wasn't people questioning the product or the training, they questioned their ability to make use of the training. By helping people to overcome their fears and build their confidence, several more members joined the university that day.
Lesson #3: Keep promoting because people are busy
The last thing I want to do is bombard my list with useless email every day screaming, "buy my stuff, buy my stuff." That being said, I've also come to understand that people are busy.
One email announcing the opening of your product is not enough. Even as much as I tried to communicate this recent launch, I still had people email me afterwards saying they didn't realize they missed the enrollment period.
Lesson #4: Add value up front as much as possible
I decided that if I was going to communicate to my list more often about the opening of the university, I was going to have to do it through adding value. I wanted every email to have value even if the person did not buy.
A few things I did to create value up front:
Created three training videos each 20 minutes long
Gave a free sample video lesson right from the university
Held three free webinars on how to become a full-time blogger in half the time
Offered a limited time bonus on how launch a membership site
Answered common questions that people were asking
Offered free live chat to come and talk to me about blogging or the university
Lesson #5: Offer a limited time bonus during your launch
Another thing that helped this recent launch be a success was to offer a limited time bonus in the middle of my launch. I set a date before the final closing date and let those on my list know that I had a limited time bonus for them.
It was a complete $97 course I sell on how to launch a membership site in 90 days. The last day of this limited bonus was my third highest sales day of the launch.
Lesson #6: Stay in close proximity with your audience
As much as possible, be available to coach, guide, and direct your potential customers. I accomplished this by holding three live webinars two days before the closing day and being available all day on live chat the final day.
At the end of the day, this is a relationship business. If people feel a personal connection with you, they will gladly go on a journey with you.
I hope these lessons help you as you prepare for your next launch.