5 Ways People Learn from You
If you're a blogger, you're in the information expert empire. This took awhile for me to fully embrace. Early on in my blogging journey, my highest aspiration was to earn money online and remain anonymous behind the scenes. I finally began to realize I was serving no one with this strategy including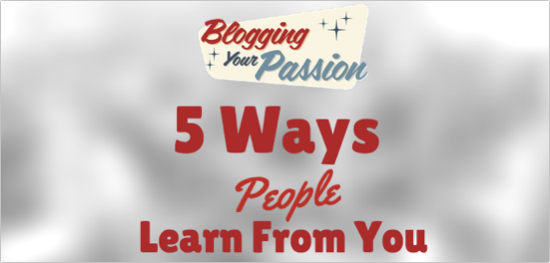 If you're a blogger, you're in the information expert empire. This took awhile for me to fully embrace. Early on in my blogging journey, my highest aspiration was to earn money online and remain anonymous behind the scenes. I finally began to realize I was serving no one with this strategy including myself.
If you truly desire to make a difference in the lives of others you must get in close proximity with them. You can't hide in the shadows and make an impact. You can't protect yourself from criticism or misunderstanding. As Crystal Paine so eloquently puts it: "You must own the gifts that God has given you."
[Tweet "If you truly desire to make a difference in the lives of others you must get in close proximity with them."]
I've been teaching bloggers that there are three primary ways you can share your passion. After reading Brendon Burchard's book Millionaire Messenger, he has convinced me there are two additional ways to teach and share your passion.
1. By Reading Your Words (Text)
Blogging is a powerful way to teach and serve others through the written word. I'm reminded of this whenever I see "thank you" blog comments from a blog post I wrote over five years ago. Blogging has allowed the average person to have extraordinary influence. What you write doesn't just inspire someone for the day, but for a lifetime. People will be reading your insights long after you are gone. Leave a positive digital legacy.
[Tweet: "What you write doesn't just inspire someone for the day, but for a lifetime."]
2. By Hearing Your Voice (Audio)
Podcasts have allowed us content creators to have a powerful new medium. Our voices can inspire people everyday through the words we speak. Podcasting has been described as the most intimate form of communication for your audience. Many people listen to podcasts by placing in earbuds into their ears. You are speaking to them directly in a very intimate way.
3. By Watching Your Information (Video)
We can also teach our passion through video. You don't need an expensive television show today to get noticed. You only need a YouTube Channel, a Google hangout, or a live webinar to draw people into your passion. I personally believe that live webinars is one of the single greatest ways to build trust with your audience. I love to use the Webinar Jam software since it integrates nicely with Google hangouts.
4. By Experiencing You In Person (Live Events)
I have also come to understand that there is a segment of your audience that prefers live events. They would rather invest money into live workshops, retreats, and conferences over spending money on online courses. They want the personal interaction with you and the opportunity to interact with others who share their passions.
5. By Mastering Your Information (Coaching/Mentoring)
The further you get into your blogging journey, you will also discover that a percentage of your audience would rather pay a higher premium in order to get instant feedback and personal accountability from you. I have a mentoring program where I am regularly guiding a handful of aspiring bloggers. The reason mentoring works for them is because they desire a guide.
They want to lay out all their plans so I can help them create a short list of where to focus. I've seen first hand how empowering having a mentor can be. If you have an interest in working with me personally, you can check out the options and my availability on the blog mentoring page.
As you can see, there are many ways you can share your passion. Don't get overwhelmed in trying to do all five right away. Add them one at a time as they make sense.
Question: Which of the five are you currently using with your blog?