5 Reasons I Switched to Get Response Email List Building Service
How would you feel if you spent several years blogging and collecting thousands of email addresses only to have them all hijacked for a few days? To make things worse, you have no customer support phone number to call to sort things out. This is what happened to a good blogger friend of mine with …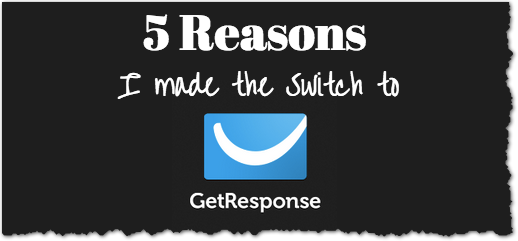 How would you feel if you spent several years blogging and collecting thousands of email addresses only to have them all hijacked for a few days? To make things worse, you have no customer support phone number to call to sort things out.
This is what happened to a good blogger friend of mine with a very popular email marketing software (to be kept nameless). In the end, they flagged his account by accident, but the damage had already been done. Unable to email his sizable list for days (80,000+ and growing) meant loss revenue for his business.
This could have been easily solved if they just had a customer service number to call.
Since I was using the same service at the time, this obviously made me nervous so I looked high and low for the best email list building service out there.
I settled on GetResponse.
I've been using them for awhile now and I'm here to stay. I wanted to use them for several months before I felt comfortable recommending them. Here are at least 5 reasons I made the switch:
1. 24/7 Live Chat Support
This was probably the deal maker for me. Even in my 30 day free trial, I was able to hit the live chat button (on the left side of the page) and get instant access to help. The live chat is available no matter what page you are on and it is incredibly helpful when you are trying to figure out how to do something in the software (see below).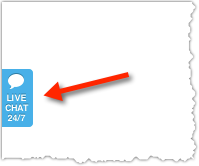 2. Simple Drag-n-Drop Autoresponder Calendar
Experienced bloggers know the value of autoresponders. An autoresponder series is a group of messages you can send out over time to new subscribers. Setting up automations in your business can be incredibly valuable. What I love about GetResponse is the clean calendar interface they have for autoresponders.
You can create a few emails you want to send out and then just drag and drop them on the days you want them to go out. Below is a screenshot of one that I set-up for the Teach Your Passion Course (you can experience these autoresponder emails and teaching videos by opting in here).

3. Easy to Create Multiple Lists
One area in my business I am focused on right now is multiple points of exposure. In other words, I have different email opt-in magnets placed in several different places on my blog. We all have different interests so why not give your audience different choices?
I know some of you might be thinking: "I don't want to have the same email address in multiple lists." GetResponse has you covered there as well.
First, if you want to send a single email to multiple lists, GetResponse is smart enough to only send one email even though your subscriber might be on multiple lists.
Secondly, GetResponse makes it easy to move email addresses from one list to the other, while never duplicating a single email address.
4. Action-Based Autoresponders
In the last few years there has been a craze over action-based autoresponders. Think of it like a "if…then" formula. For example, if you send your list an email about goal setting, you can then assume that those who opened your email have an interest in goal setting.
Instead of bombarding your entire list with more emails about goal setting you can just send future emails only to those who are interested.
GetResponse allows you to set this up. Below is an example of one I created with my blog mentoring page. If someone opened up my original email about blog mentoring, one day later they will receive a second email about the mentoring program as a follow up.
What's great about this process is there is no need to bombard your whole list. You can just reach out to those who have already shown some interest.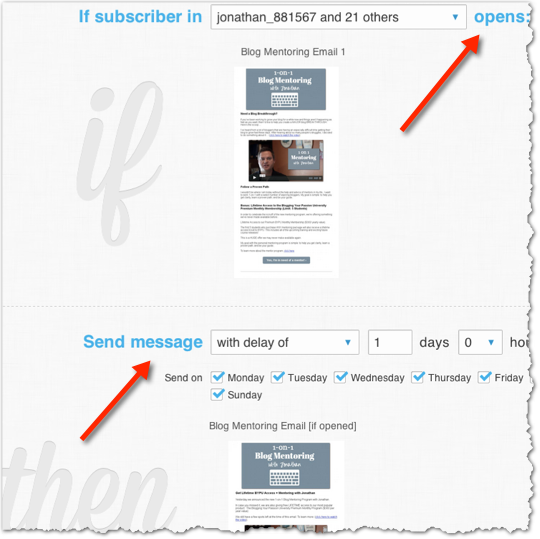 5. Surveys, Landing Pages, and More!
Another benefit of being a GetResponse customer is all of the add-ons you have access to. They are constantly improving and adding to the site. They make setting up a survey a breeze if you want to interact with your audience. They've also recently improved their Landing Page Creator making it easier to set up your own opt-in page.
Overall, I've been extremely happy with GetResponse. If you'd like to test it our for yourself they are currently offering a 30 Day Free Trial With No Credit Card Needed.
Question: In what ways are you growing your email list?