5 Questions All Audiences Want to Know About You
While we advocate blogging your passion, the truth is your blog is not about you. It's about who you are helping through your passion. It's about making a difference in the lives of other through the talent, skill and experience you have. It's a critical point you shouldn't miss. The Questions Your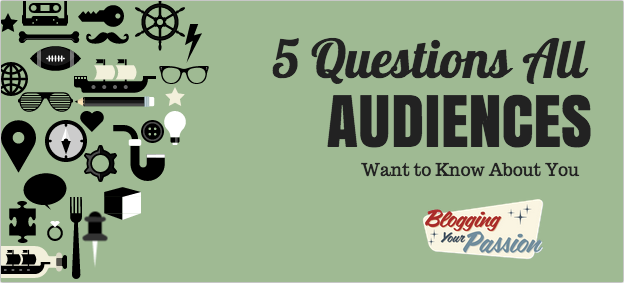 While we advocate blogging your passion, the truth is your blog is not about you. It's about who you are helping through your passion. It's about making a difference in the lives of other through the talent, skill and experience you have. It's a critical point you shouldn't miss.
The Questions Your Audience is Asking in Their Heads
Wouldn't it be great if we could tap into the thoughts and questions our ideal audience has? It would make this blogging thing so much simpler. I'm about to share with you the top five questions your audience is asking and how you can use it to add even more value to your audience.
5 Questions All Audiences Want to Know About You
I know – I just made a strong case that your blog is not about you, but hear me out. What your audience wants more than anything is for you to relate to them. What were your struggles along the way? What important discoveries did you make that can help me? What small distinction have you figured out that has made the most difference in your life? It's okay to talk about you as long as the end goal is to teach a lesson or improve a life.
The following five questions come from Brendon Burchard's book, The Millionaire Messenger. I'll share them along with my own insights.
1. Who are you and what have you been through in life that I can relate to in my own life? Your audience wants to relate with you. Don't hide behind your blog. Step out, share and allow others to relate with you.
2. What have you overcome and how? Your audience also want to connect with your struggles. Too many bloggers think they lose credibility when they share failures and struggles, but I have found the opposite is true. You become more relatable and human. Your message of overcoming challenges emboldens them to do great things despite their own failures.
3. What did you figure out along the way? Your audience is looking for a guide. It's as simple as one beggar telling another beggar where he found bread. Sharing the small insights, distinctions and self discoveries from your journey can deeply connect you with your audience.
4. What did you succeed at – what results did you get? They also want to learn from your successes. They want you to lay out for them the roadmap and steps so they can do the same. You crossed the river, they are still on the other side of the bank and they are looking to you to show the way.
5. What are you going to teach me that I can apply now to make my life better? Don't underestimate the power of a quick win. Help your audience by answering the simplest of questions. We often think that we must impress people with our knowledge so we write about complex subjects. Instead choose topics that can change their day before tackling subjects to change their life.
How about you? Which of these five questions do you like the most?