4 Ways to Discover Your Passion
"What do you want to be when you grow up?" Have you heard that before? Maybe you said a superhero, firefighter, nurse, doctor, or teacher. I believe that God has placed certain passions in all of us. Some of them are very unique to you. Do you believe that you were placed on this earth … 4 Ways to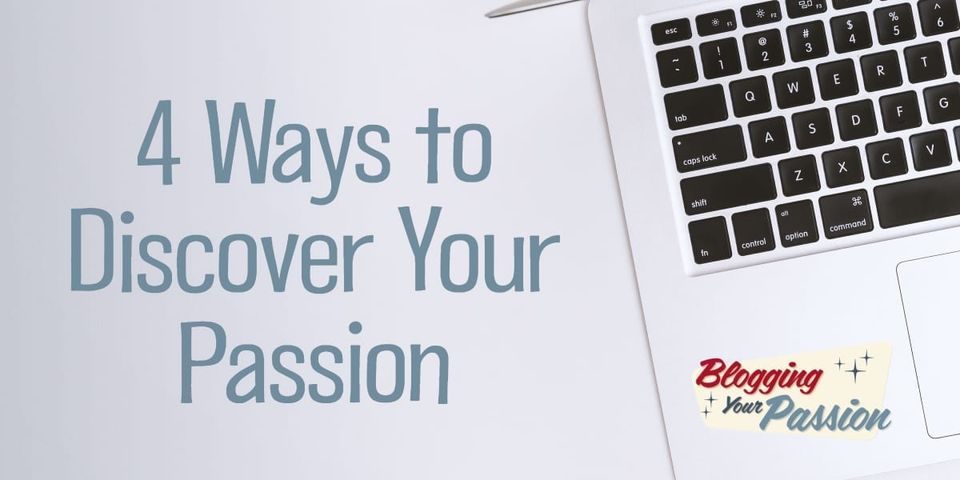 "What do you want to be when you grow up?" Have you heard that before? Maybe you said a superhero, firefighter, nurse, doctor, or teacher. I believe that God has placed certain passions in all of us. Some of them are very unique to you.
Do you believe that you were placed on this earth for a reason? I do. Too many times we overlook our unique qualities and God-ordained passions and dismiss them as something that everyone else has as well. I believe that you were unique gifted by God and He has placed inside of you certain passions as well as unique strengths to fulfill those desires.
The truth is there are many blogs out there that teach you about how to create a successful blog. It was never my desire (nor Bob's) to create a blog just about blogging. Our foundational belief is that:
Writing Your
Passion
+ Taking the
Right
Actions +
Consistent
Effort =
Great
Results
Discovering your passion is a unique, foundational element to this whole process. In Richard Chang's book, The Passion Plan, he lists 4 primary ways that you can discover your passion. I want to take a moment to mention each with my own commentary and experience. Obviously, these are not the only ways to uncover your passion, but maybe you can identify with some of these.
You Can Discover Your Passion…
1.  Through a Life-Changing Experience: "I  Knew When…"
Some of us have one pivotal, life-changing experience that can make us suddenly aware of our passion. Many times it is an unexpected experience that leads us to this revelation. I believe this last, deep recession has caused this epiphany for many people. They suddenly realized that money should not be the sole motivator for life and happiness. This sudden life-changing experience gave them new permission to pursue a passion that had been hidden for quite some time.
2. Through Gradual Awareness by Experience: "I'm Not Sure How I Figured It Out…"
Still, others of us never have that "life-changing" experience to draw from. We almost look at others in envy because of the "unusual clarity" that others seem to possess. It is as if our passions are revealed to us slowly through the many experiences we possess. We begin to see patterns and habitual behaviors that we gravitate to. I believe that no matter what type of position or work experience you get into to, after a while, you will gravitate toward your natural abilities and interests. It really is inevitable.
3. Through Your Own Intuition: "I Have Always Known…"
Have you ever looked sideways at people who have always seemed to be clued in on their passions and interests? They seem to not waver. They pursue this particular passion as a college degree and go on to have a career track that is very focused. If you asked them, it is almost as if they would say, "I've always known…" Many people call them dreamers because they pursue their passion at all costs. They are often the actors, singers, artists, and writers. They do not need the environment to be right in order to pursue their passion. They follow it whether the conditions are right or not.
4. Through a Major Reaction to a Life Change: "I Figured It Out After…"
Now, at first glance, this may seem a lot like the first point, but it is a bit different. This is a reaction to a life stage change whether someone is born, dies, gets married, or divorced. This life-stage change has almost forced them to change in some way. It is a reaction to this change.
Passion and Blogging
Whenever I speak about passion I always want to tie this into blogging. What I love so much about blogging is that anyone can get started on a journey to pursue their passion for very little start-up cost. The more that I write about my passion the more fulfilled that I am. Also, in the beginning, writing is an incredible way to get the thoughts that you have in your head out on paper. It causes you to better understand your own self, the passion that God has placed in your heart, and the direction you want to go. There is no better reason to start a blog.
If you know what your passion is, how did you go about discovering it?