4 Steps to Launching a One Year Marketing Calendar
Full of ideas without a plan. Does that describe you today? Back in June of this year I was overwhelmed with opportunity. I had so many ideas I wanted to execute on and had no idea where I should spend my time. I was wrestling with: What should I work on first? Do I have … 4 Steps to Launching a On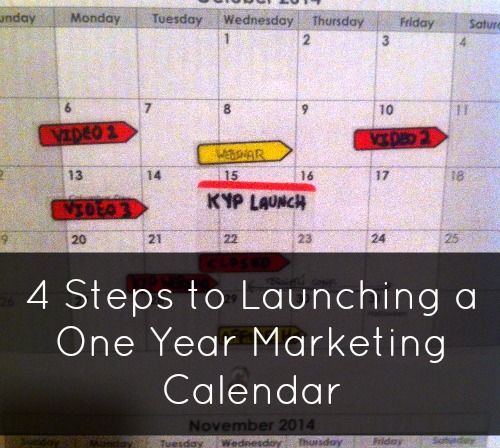 Full of ideas without a plan. Does that describe you today? Back in June of this year I was overwhelmed with opportunity. I had so many ideas I wanted to execute on and had no idea where I should spend my time.
I was wrestling with:
What should I work on first?
Do I have the capacity to work on several ideas at once?
If I have to choose, which of my ideas do I put on the shelf for later?
How do I space out my ideas as to not overwhelm myself or my audience?
Then, one magical day in June, my wife said, "Sounds like you need a year long calendar so you can schedule all these ideas." That led me to creating a one year marketing calendar. This is a project I'd encourage every single blogger to tackle.
A one year marketing calendar will:
Allow you to focus on one thing at a time
Allow you to mentally forget a few ideas until the appointed time
Help you to set a realistic plan of action (calendar doesn't lie)
Give you a one year track to run on
Help you to say no to other opportunities that don't fit in your calendar
Help you to say yes to opportunities by seeing spaces in your calendar
A one year marketing calendar along with a detailed blog business model canvas will help to propel your online business fast.
[Tweet "A one year marketing calendar helps you set a realistic plan of action on your ideas."]
The 4 Step Plan to Launching a One Year Marketing Calendar
Maybe you are convinced that you need this kind of clarity, but not sure where to start. Here is a four step plan you can implement over a weekend.
[feature_box style="26″ only_advanced="There%20are%20no%20title%20options%20for%20the%20choosen%20style" alignment="center"]Bonus Content: Want this 4 step plan in a handy checklist you can print off? Click here to grab the checklist!
[/feature_box]
Step 1: Get a 12 Month Visual Calendar
Use your creativity here. The only requirement is to make it visual. When it is out of sight, it is out of mind. I simply went to CalendarLabs.com and printed off the next twelve months. From there, I found a space in my home office and I displayed all twelve months where I could view it every day (see pic).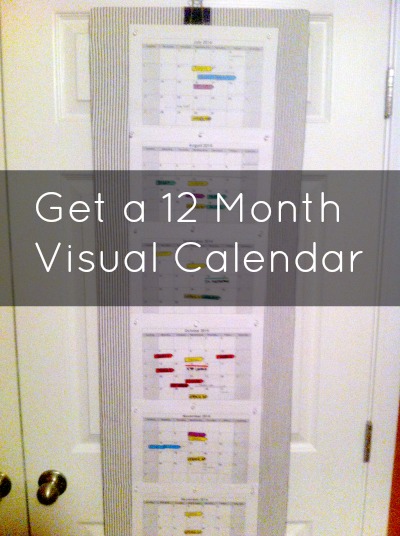 Step 2: Color Code Your Brands, Product Launches, and Events
The next step for me was to begin color coding my ideas. This will help you to be able to visualize the different types of projects you have on your calendar. I purchased a few packs of self stick markers so that I could move them around if needed. A few things you should assign a color might be:
Product launches – I see each product launch as its own brand so for me I assign each their own color.
Group coaching – A few times a year I do group coaching. This helps me to see what nights I have available to do them.
Membership site events – Inside of Blogging Your Passion University we hold two live events each month. One is our Fast Track Class and the other is a live Office Hours Session. I use a single color for anything related to our membership site.
Free webinars – I enjoy hosting monthly, free webinars. I'm a teacher at heart and love to share in these environments. I have a single color for all the free webinars on my calendar.
Book launches – I'm working on two books at the moment and so I've set deadlines for when I'd like to release them in the next year.
Events/Keynotes – I also have a single color dedicated to any events I'll be attending or keynotes I'll be delivering.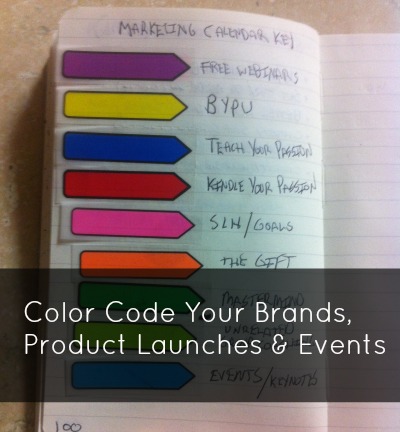 Step 3: Space Out Your Ideas and Amplify Your Focus
What do you want to complete first? Start placing your ideas on the calendar. Just choose a logical order, you can always adjust later. Also, be sure to create a buffer between ideas. We often underestimate how much work is involved in completing a project.
Be willing to say no when things don't make sense. For example, my original idea was to host two free webinars each month. Once I began plotting ideas on the calendar I realized that wasn't going to happen. I just didn't have enough free time on my calendar.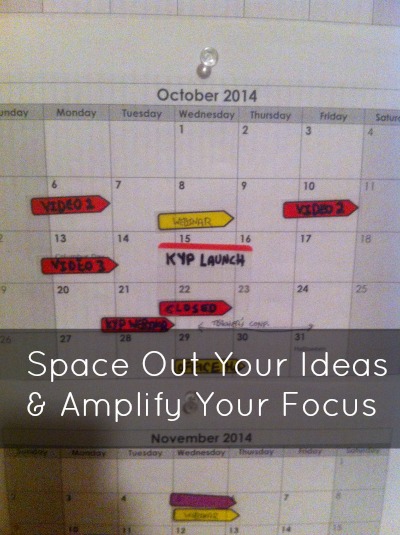 Step 4: Always Stay 6 Months Ahead
The last step is a tip to help you manage your calendar moving forward. Don't wait until you complete your twelve months of projects to add to your calendar. I'd recommend you always stay six months ahead. In other words, once you are six months in to your marketing calendar, begin planning the future six months in advance. This way you'll always have a twelve month calendar to work from.
Question: What ideas do you have for a 12 month marketing calendar?
[feature_box style="26″ only_advanced="There%20are%20no%20title%20options%20for%20the%20choosen%20style" alignment="center"]
Bonus Content: I've created a handy PDF checklist you can print off when creating your marketing calendar. Click here to grab the checklist
[/feature_box]