4 Simple Steps to Creating a Google Plus Business Page
Whether you have fully adopted "Google Plus" or not, here comes Google's version of a Facebook Fan page. It is called the Google+ Business Page. I am not convinced at the moment that you absolutely need to have one. Still, I always enjoy "testing" things out to see if it adds any significant value t
Whether you have fully adopted "Google Plus" or not, here comes Google's version of a Facebook Fan page. It is called the Google+ Business Page. I am not convinced at the moment that you absolutely need to have one. Still, I always enjoy "testing" things out to see if it adds any significant value to my blog. The process for creating a Google+ Business Page was really simple for me. So simple, that I was left scratching my head as to what else I was supposed to do.
If you have a blog or business and want to experiment with what Google+ has to offer you, then follow these 4 simple steps.
1. Make sure that you have a gmail account
You need to have a gmail account in order to get started. If you have multiple gmail accounts, be sure that you are logged in to the one that you want your business page to be associated with. If not, you will accidentally create a business page under the wrong gmail account without realizing it.
2.  Create your business page
Next, you will need to go to http://plus.google.com/pages/create in order to start the process. You will need to select a category that your business fits under. If you are a blogger that wants a Google+ page, then your best bet is probably the "other" category (like the image below).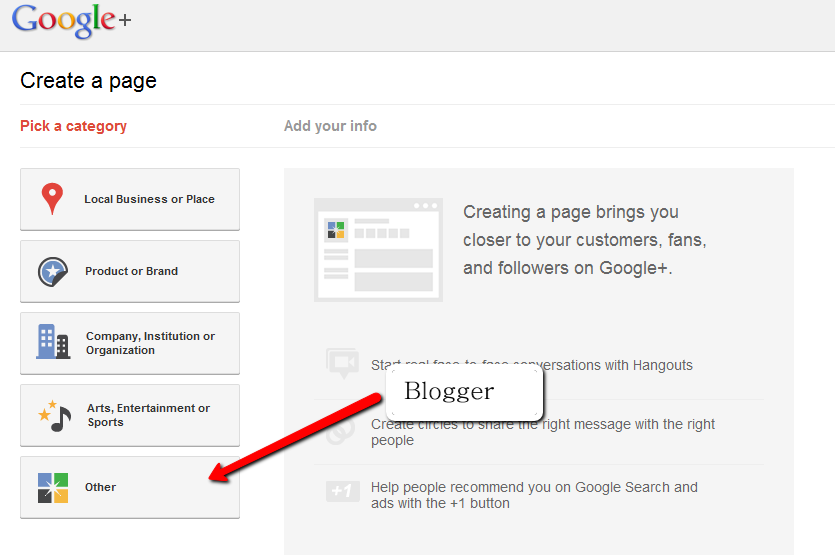 On the next page, you will need to give a name to your page along with a web address. I like to use "MyBlog.com" instead of just "My Blog" for the page title.  I think it causes the new visitor to want to go check out your site. Once you have added the details, then click "create."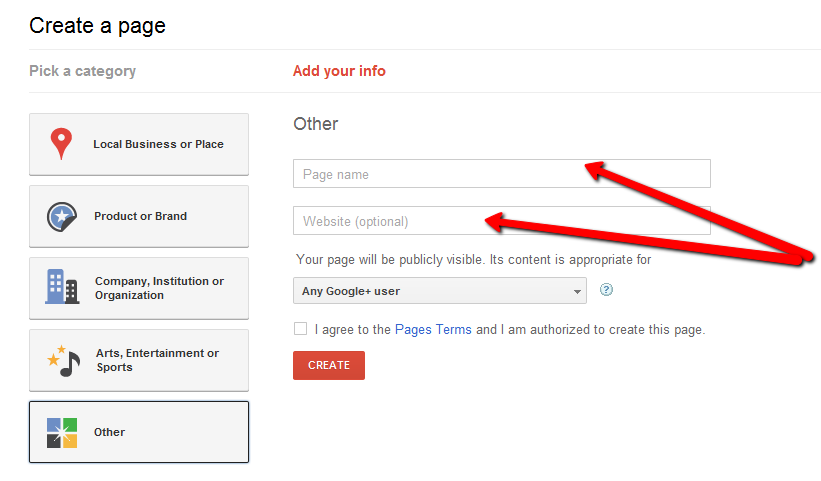 3. Add personality to your Google+ page
I will admit that there are not a lot of features at the moment to customize the look and feel of your Google+ page. However, simplicity is sort of the theme of Google. After you hit create, you will be asked to give a tag line to your page. I would encourage you to do so. There is an "about" section and a few other navigational tabs called posts, photos, and videos.  Fill in whatever details you would like in your about section.
I would also highly recommend that you not only add a profile picture, but also a few other attractive pictures as well. Pictures are really the only thing you have to "spice" up your page. On my self productivity blog, Simple Life Habits, I added a few pictures on my Google+ page from my blog to try to describe the content of my blog. See the image below.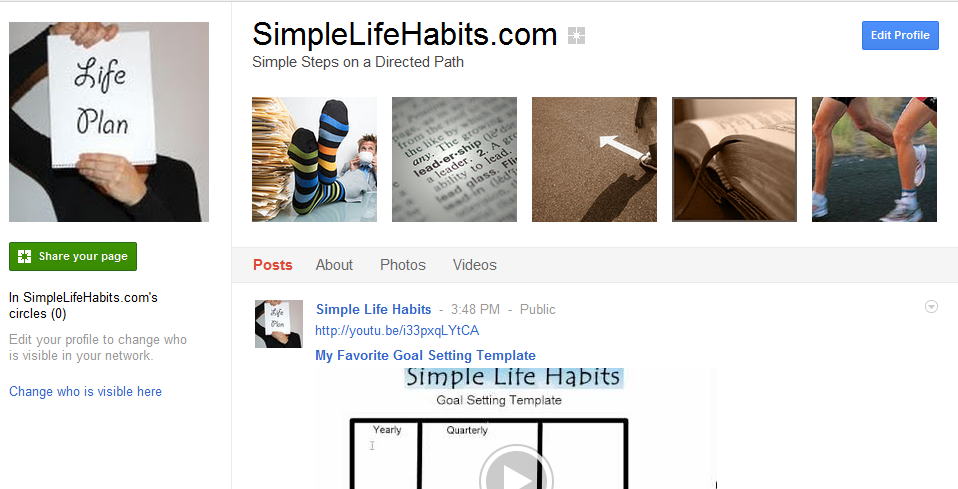 If you want to try and get a bit more creative, then use a screen capture software and take 5 pictures of your logo or blog header. You can place the images in the order that you want on your Google+ page. I did this with my career coaching blog, CPA Career Coach. See below for an example…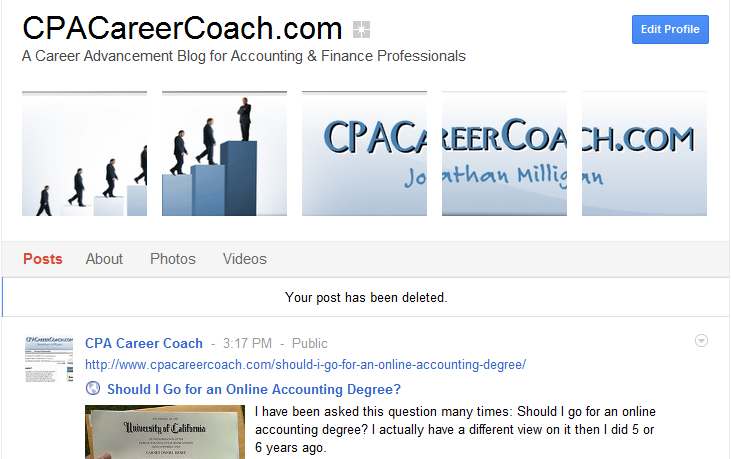 Either way, I would definitely add some pictures as it is the only thing you can do to contrast the white background.
4. Add content before promoting
Take a moment and add a good number of your blog posts onto your newly designed Google Plus Business Page. You can also easily add any YouTube videos as well. They will play right on the page. Once you fill up the page with some content, you are now ready to begin promoting your Google+ Page. There are a number of ways to do this, and I plan on writing about it in more detail at a later date.
There are also Google Plus widgets you can add to your blog just like Facebook. Another feature is Google+ Direct Connect, which is something I will be experimenting with as well.
The jury is still out for me as to whether this is a "must" traffic building tool for bloggers. Only time will tell. For now, I will just try to have some fun with it.