3 Systems Every Pro Blogger Needs
My favorite show on television is The Profit on MSNBC. It's a business-related reality show about struggling businesses in need of a turn-around. A successful businessman named Marcus Lemonis meets with struggling business owners to find out where they are failing. If he sees potential in the busine

My favorite show on television is The Profit on MSNBC. It's a business-related reality show about struggling businesses in need of a turn-around. A successful businessman named Marcus Lemonis meets with struggling business owners to find out where they are failing.
If he sees potential in the business, Marcus will offer working capital into the business in exchange for becoming a partner and sole financial control. What's fascinating about the show is every business almost always has a great product and concept, but yet they are struggling.
Once the deal is made, Marcus gets all of the employees together to describe how they will operate moving forward. Regardless of the type of business it is, he tells them that running a successful business really comes down to just three things: people, process, and product. Most of the time the product is not the problem, otherwise Marcus would have never invested his personal money to begin with. The reason they are struggling is mostly because of the process and sometimes the people.
[Tweet ""Running a successful business is 3 things: people, process, and product." @MarcusLemonis"]
What do you do if you feel like you are doing all the right things, but still can't seem to get to that next level with your blog? It's simple, learn the value of systems. For simplicity sake, we will divide systems into three areas: processes, people, and plans.
Processes – Scale your business through documented checklists
Before you can even begin to outsource your work and get help, there's an important first step you need to take. That step is documenting your processes with checklists. The challenge for most of us is that we are already so busy this just feels like busy work.
Our thoughts go something like this: "I just want someone else to do all this other stuff for me so I can focus on where I work best." While that's a great mindset, we often jump over the first step. Because we don't take time to document our work first, we end up wasting more time by training and retraining those who work with us.
They are stalled out because the checklist lives in our head. Even worse is when we have turnover and we have to start all over again with someone new. If your entire online business operates from your brain, you will always feel overwhelm.
People – Leverage your time through other talented people
Once you've done the hard work of documenting your workflows and processes, you are now in the right place to get some help. When it comes to work, we all have green, yellow, and red activities. I like to describe each of them in the following ways:
Green work activities – the things you can spend two to four hours doing and feel just as energized about them at the end
Yellow work activities – the things you have competency in but don't enjoy doing and feel a bit drained afterwards
Red work activities – the things in your work that are hard for you and they completely drain you
The reason it's important to see our work this way is because each of us would label the colors differently. What might be a green activity for you might be a red for me. Your green activity is where your genius work lives. If the majority of your day is filled with red activities, not only are you drained but you are frustrated.
Your red activities are someone else's green activities. Something that might take you an hour to complete will take someone else ten minutes and their finished work looks better. Successful bloggers have identified what their genius work is and they get help for the rest.
[Tweet "Successful bloggers know what their genius work is and they get help for the rest."]
Plans – Expand your brand through well thought out plans
Most aspiring bloggers operate with short-term thinking. Many Pro Bloggers operate with long-term thinking. They have a twelve month plan at all times. Having a long-term plan frees them up to focus on the short-term. They want to get through the next book, product launch, or promotional plan because they have a schedule to keep. Beyond having a one year marketing calendar, Pro Bloggers also have a few other plans that help to drive the business forward.
As you can see, systems are important. Depending where you are on the blogging success pyramid, will determine where you should place your focus.
Which one of the three points above need to be a focus for you in the present moment?
[feature_box style="26″ only_advanced="There%20are%20no%20title%20options%20for%20the%20choosen%20style" alignment="center"]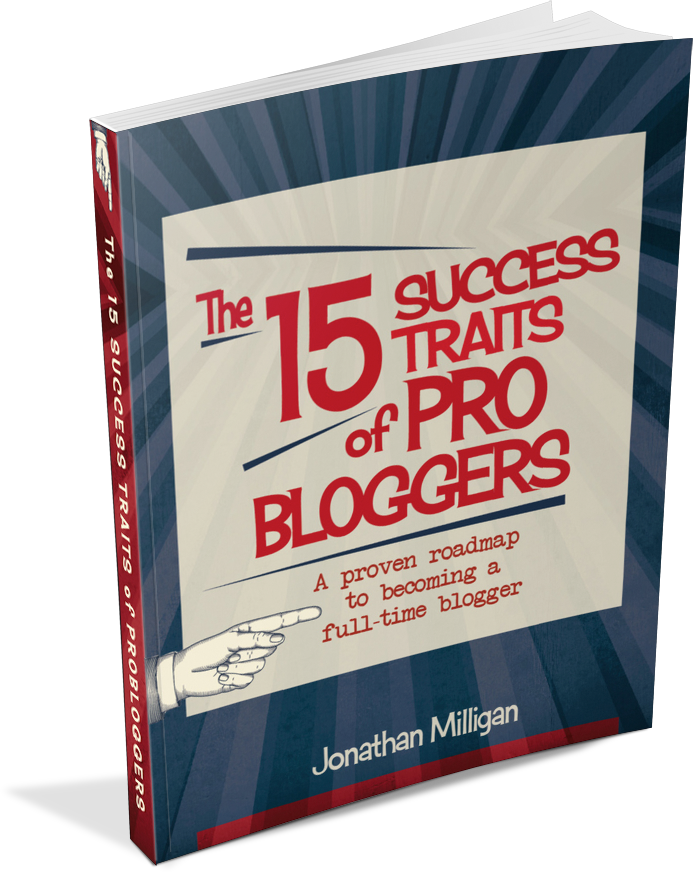 Did you enjoy this post? This is a book excerpt from my new book The 15 Success Traits of Pro Bloggers: A Proven Roadmap to Becoming a Full-Time Blogger. To get an early released copy of the book and some extra training, you can join the private book launch group by clicking here.
[/feature_box]